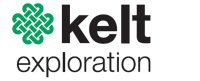 CALGARY, ALBERTA -- (Marketwire) -- 03/07/13 -- Kelt Exploration Ltd. ("Kelt" or the "Company") (TSX: KEL) is pleased to provide financial and operating guidance for 2013. Common shares of Kelt commenced trading on the Toronto Stock Exchange on March 1, 2013 under the symbol "KEL".

2013 Guidance

Kelt was recently formed as a junior oil and gas exploration and development company resulting from a plan of arrangement involving Celtic Exploration Ltd., ExxonMobil Canada Ltd., ExxonMobil Celtic ULC, and Kelt (the "Arrangement"). As a result, guidance for 2013 is based on a short year, commencing February 26, 2013 and ending December 31, 2013.

Kelt is optimistic about its future prospects. The Company is opportunity driven and is confident that it can grow its production base by building on its current inventory of development prospects and by adding new exploration prospects. Kelt will endeavour to maintain a high quality product stream that on a historical basis receives a superior price with reasonably low production costs. In addition, the Company will focus its exploration efforts in areas of multi-zone hydrocarbon potential, primarily in west central Alberta and north-eastern British Columbia.

Kelt's Board of Directors has approved a 2013 capital expenditure budget of $52.0 million. In addition, and in connection with the Arrangement, approximately $25.0 million was incurred by Kelt with respect to capital projects, including land acquisitions, prior to the completion of the Arrangement on February 26, 2013. In aggregate, the Company expects to spend $54.7 million on drilling and completing wells, $11.0 million on facilities, equipment and pipelines, and $11.3 million on land and seismic.

Kelt expects production in 2013 to average between 3,700 and 3,900 BOE per day. At the mid-level of the range of 2013's average production forecast, production is expected to be weighted 22% oil and 78% gas; however, operating income in 2013 is expected to be generated 59% from oil production and 41% from gas production.

The Company's average commodity price assumptions for the period from February 26, 2013 to December 31, 2013 are US$87.50 per barrel for WTI oil, US$4.00 per MMBTU for NYMEX natural gas, $3.50 per GJ for AECO natural gas and a US/Canadian dollar exchange rate of US$0.9732. These prices compare to average calendar 2012 prices of US$94.20 per barrel for WTI oil, US$2.80 per MMBTU for NYMEX natural gas, $2.26 per GJ for AECO natural gas and a US/Canadian dollar exchange rate of US$0.9994. After giving effect to the aforementioned production and commodity price assumptions, funds from operations for 2013 is forecasted to be approximately $20.5 million or $0.30 per common share, diluted.

Changes in forecasted commodity prices and variances in production estimates can have a significant impact on estimated funds from operations and profit. Please refer to the cautionary statement on forward-looking statements and information set out below.

The information set out herein under the heading "2013 Guidance" is "financial outlook" within the meaning of applicable securities laws. The purpose of this financial outlook is to provide readers with disclosure regarding Kelt's reasonable expectations as to the anticipated results of its proposed business activities for 2013. Readers are cautioned that this financial outlook may not be appropriate for other purposes.