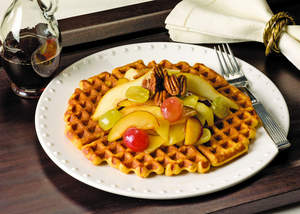 Sweet Potato Waffles


MISSION, KS -- (Marketwire) -- 03/07/13 -- (Family Features) Sweeter breads and casseroles are popular brunch foods, but they can be heavy and full of fats, sugar and calories. For a lighter, fresher brunch that still leaves guests satisfied, fill their plates with delicious and healthy fresh fruits.

Fresh fruits help satisfy a sweet tooth without filling you up with unhealthy ingredients. And fresh fruits are available year-round thanks to an abundance of fruits available from Chile. Here are a few delicious ways to make your brunch fresh and tasty with fruit:

•Slice up a variety of fresh fruits and serve them in fruit-based containers. Carve a basket from a watermelon, hollow out the center of halved cantaloupes or honeydew melons, or make individual servings in orange peel cups.

•Set up a yogurt bar so guests can customize their own yogurt parfaits. Include creamy yogurt, fresh Chilean blueberries, plums, grapes, kiwis and apples. Have a selection of homemade granolas, toasted nuts and coconut flakes with honey or agave nectar for drizzling.

•Set out fresh fruit skewers stacked with chunks of your favorite fresh fruits. For an added layer of flavor, lightly grill the skewers over smoky coals or in a grill pan on the stove. Drizzle with honey and sprinkle with toasted coconut flakes.

Another way to enjoy fresh fruit is to incorporate it into your brunch recipes. This recipe for Sweet Potato Waffles tops fluffy waffles with fresh Chilean peaches, plums and grapes; and this recipe for Blueberry, Apple and Gorgonzola Paninis uses fresh Chilean blueberries for little bursts of sweet flavor in a savory sandwich. For more brunch recipes like these, visit www.fruitsfromchile.com.



Sweet Potato WafflesServes 81 1/2 cups buttermilk or plain yogurt4 large eggs1/2 cup sugar2 1/2 cups flour3/4 tablespoon baking powder3/4 cup cooked sweet potato puree (canned or fresh)3 tablespoons melted butter2 peaches, sliced2 plums, sliced1 cup grapes, halved1/4 cup pecans Maple syrup
Blend the first 7 ingredients well and let rest for 20 minutes.
Make waffles in a waffle maker.
Top with fruits and toasted pecans.
Add maple syrup to taste.
Nutrients per serving: 300 calories, 9g protein, 7g fat, 63 calories from fat, 4g saturated fat, 120mg cholesterol, 2g dietary fiber, 99mg sodium
Blueberry, Apple, Gorgonzola PaninisServes 48 Italian bread slices8 ounces Gorgonzola, crumbled1/2 cup blueberries1 crisp apples, thinly sliced8 ounces thinly sliced ham or smoked turkey1 cup arugula2 tablespoons red pepper jelly, divided2 tablespoons olive oil
Layer 4 bread slices evenly with Gorgonzola, blueberries, apples, ham and arugula.
Spread 1 1/2 teaspoons pepper jelly on side of each of the remaining 4 bread slices; place bread slices, jelly sides down, on top of arugula. Brush sandwiches with olive oil.
Cook sandwiches in batches in a preheated Panini press or grill pan 2 to 3 minutes or until golden brown.
Nutrients per serving: 450 calories, 19g fat, 171 calories from fat, 9g saturated fat, 57g cholesterol, 1,507g sodium, 24g protein, 4g dietary fiber
About Family Features Editorial Syndicate

This and other food and lifestyle content can be found at
www.editors.familyfeatures.com
. Family Features is a leading provider of free food and lifestyle content for use in print and online publications. Register with no obligation to access a variety of formatted and unformatted features, accompanying photos, and automatically updating Web content solutions.
Image Available:
http://www2.marketwire.com/mw/frame_mw?attachid=2249462
Add to Digg
Bookmark with del.icio.us
Add to Newsvine


Michael French
mfrench@familyfeatures.com
1-888-824-3337
http://editors.familyfeatures.com