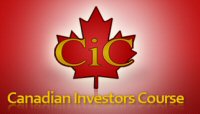 TORONTO, ONTARIO -- (Marketwire) -- 03/07/13 -- Editors note: There is one image and one video associated with this press release.

This is a question that experienced international investor Desmond Jordan has asked himself many times since he arrived in Canada 12 years ago. To him the answer was clearly YES. Desmond is now an educational entrepreneur and the Founder and President of the Financial Literacy Learning Centre Inc. His company is dedicated to offering Canadian's a choice about how they learn to plan for and manager their financial independence. Desmond launched his flagship Canadian Investment Course in 2009 to meet the increasing demand for investment knowledge that Canadian investors were seeking, particularly as the boomer generation got increasingly close to retirement. The course has been offered in multiple locations 3-4 four times per year ever since and those fortunate to attend have given it rave reviews for is clear focus on providing exactly what was promised, unbiased investment education - no more and no less. As a passionate Scotsman.

The boomers may have let the way in creating demand for the course but it has become clear over the intervening years that many younger Canadians are also seeking a reputable and reliable educational resource to help them plan for their financial futures. The Canadian Investment Course is currently offered exclusively in Ontario but there are plans to take it and related wealth planning courses coast to coast over the coming years.

The course format is currently a six week night class, delivered in a small group format in which participants are given a comprehensive and unbiased investment education through a step by step teaching process. The facilitators provide a complete explanation of all of the major asset classes and the retail investment products available to Canadian investors. New courses are starting in March and April 2013 in Mississauga, Oakville, Burlington and Hamilton.

For specific course dates and locations visit www.CanadianInvestmentCourse.ca.

Class facilitators are carefully selected industry professionals with a minimum of 15 years of Canadian investment and financial experience. These investment veterans take the time to answer any questions including how fees are charged for each of the product and services that most consumers are exposed to. Complex products and services are made simple and references to historical and economic events help to provide an explanation about the major investment cycles and the interaction between the major investment markets and assets classes.

Participants leave the course with a great deal of practical knowledge and increased confidence to manage their own investments or to establish better relationships with qualified advisors. Many do this through their existing advisors who they have come to appreciate more but sometimes they seek to establish new advisor relationships once they understand the full range of choices that are open to them. The confidence to take a more proactive interest in the management of their own investments comes naturally with a greater familiarity of the industry jargon and a deeper understanding Canada's capital markets and investment industry in general. This desire to become more involved in the management of their financial affairs is the reason why the motto of FLLC is 'EMPOWERING INVESTORS THROUGH EDUCATION'. Here is a summary of the course curriculum;


Class 1: Where to find the highest Fixed Income interest rates: Short to medium term, Mid to long term Fixed Income and Preferred Shares. How to profit in the Bond Market.Class 2: Equities: General overview of the Capital Markets. How to select stocks conservatively. What techniques do the professionals use?Class 3: The Economic Cycle: How it relates to Stocks, Bonds, Real Estate and Commodities.Class 4: Simple Financial Planning, Annuities, Term versus Universal Life Insurance, Tax Strategies and the beside the scenes to of the Canadian investment industry.Class 5: Mutual Funds, ETFs, Wrap Accounts, Principal protected notes, index linked GICs and "guaranteed" for life 5% income product (variable rate annuity).Class 6: Forming an investment policy statement, how to build a portfolio and a complete discussion about asset allocation (the 2 types). Class builds their own portfolios.
Here are some of the KEY lessons participants learn in the
Canadian Investment Course
;
1. There is much more to investing than your local bank branch2. Putting together an investment portfolio that suits you3. The Investment Industry; who are they, how do they get paid?4. There is investment "life" beyond Mutual Funds5. How to save hundreds or thousands of dollars in fees and tax deductions6. Do I have enough to retire; how much do I have to save?7. Plenty of classroom discussion, great for both novice and experienced investors8. Profitable types of portfolio strategies explained fully9. Is my current investment advisor or financial planner doing what is best for me?10. Learn how to safely generate high tax-efficient income and potential growth for your portfolio.11. Learn about the one single indicator that warns of potential recession's including real estate and housing slumps.
The Canadian Investment Course practical in purpose and simple by design will help you make, save and preserve more of your money, more of the time.
To view the image associated with this press release, please visit the following link:
http://www.marketwire.com/library/20130307-858480_image_800.jpg
To view the video associated with this press release, please visit the following link:
http://www.youtube.com/watch?v=tdyQwg8V8VU
Add to Digg
Bookmark with del.icio.us
Add to Newsvine


Contacts:
Desmond Jordan
905-828-1392
Desmond@fllc.ca
www.fllc.ca
www.canadianinvestmentcourse.ca