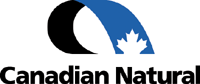 CALGARY, ALBERTA -- (Marketwire) -- 03/07/13 -- Canadian Natural Resources Limited (TSX: CNQ) (NYSE: CNQ)

Commenting on fourth quarter and year end results, Canadian Natural's Vice-Chairman, John Langille stated, "Canadian Natural generated in 2012 over $6.0 billion of annual cash flow from operations and demonstrated capital discipline throughout the year. The Company's exhibited long term ability to maintain flexibility of capital allocation and financial discipline over different commodity price cycles has helped us weather challenging conditions and capitalize when opportunities arise. Prudent management of our balance sheet resulted in year-end debt to book capitalization of 26% and year-end debt to EBITDA of 1.2 times.

As part of the Company's long term goal to return funds to its shareholders, throughout 2012, the Company purchased for cancellation under its Normal Course Issuer Bid over eleven million common shares at an average price of $28.91. For 2013, the Board has approved a 19% dividend increase to C$0.125 per quarter, C$0.50 per share annualized. This will be the thirteenth consecutive year that the Company has announced an increased annual dividend distribution representing a compound annual growth rate of 21% over the period. In addition, the Company's Board of Directors have directed Management to continue with an active program, subject to market conditions, to purchase for cancellation common shares under the Company's Normal Course Issuer Bid at or above the levels of shares purchased in financial year 2012. Our share purchase program and dividend increases, along with the defined resource development of our diverse asset base, and our debt management and opportunistic acquisitions demonstrate our balanced approach to our long standing effective strategy. Canadian Natural is strong and stable, and well positioned to deliver shareholder value in the near, mid and long term."

Steve Laut, President of Canadian Natural concluded, "During 2012, the Company made very good progress in our transition to a longer life, low decline asset base. We continued to balance development of our large resource base by focusing on high return assets and our ability to deliver timely results. In 2012 we made significant progress towards continued execution on the creation of shareholder value. We achieved 9% overall production growth in 2012 from 2011. At Horizon, substantial improvements have been made in operating discipline and our enhanced concentration on safe, steady and reliable operations has led to greater plant reliability. At Kirby, construction progress has been solid and we are 81% complete and on budget. We had another solid year of adding new reserves. Our barrel of oil equivalent reserves on a Company Gross proved plus probable basis increased by 5% to 7.9 billion barrels, replacing 246% of our 2012 production.

For 2013 and beyond, we will continue to focus on operating efficiencies and discipline and will allocate capital to projects that provide the greatest value and highest returns to our shareholders. This will allow the Company over time to generate strong and growing free cash flow."