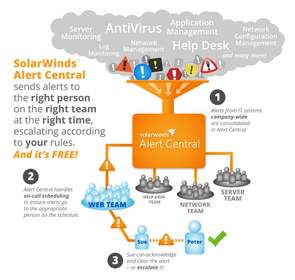 With SolarWinds Alert Central, IT pros can now centralize multi-system IT alerts in a single, consolidated view, give team members access to a scheduling calendar, escalate alerts automatically and enable IT personnel to respond from their computers or mobile devices with or without VPN access all for free.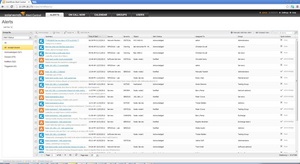 New free SolarWinds Alert Central software consolidates, distributes and escalates IT alerts across multiple systems and teams for efficient and effective IT alert management.



AUSTIN, TX -- (Marketwire) -- 03/06/13 -- SolarWinds (NYSE: SWI), un proveedor líder de software de gerenciamiento de TI poderoso y económico, anunció hoy el primer producto gratuito de la empresa con todos los funciones incluidas, SolarWinds Alert Central. Diseñado para ayudar a simplificar el gerenciamiento de alertas de TI, SolarWinds Alert Central ayuda a aliviar las dificultades que la mayoría de los profesionales de TI enfrentan.

De acuerdo con un estudio reciente de SolarWinds* involucrando a más de 150 entrevistados, los profesionales de TI necesitan una solución de gerenciamiento de alertas confiable y fácil de usar:

•Más del 73% de los encuestados respondió que el gerenciamiento de alertas era una dificultad real en sus organizaciones. •El 65% afirmó que los métodos utilizados actualmente para gerenciar la programación sobre aviso eran "poco" eficaces o "no eficaces en absoluto". •El 75% de los encuestados afirmó que se obtienen alertas que no son de su incumbencia por lo menos una vez por mes, mientras que el 50% de los encuestados declara que esto sucede por lo menos una vez por semana. •Hacer que los alertas lleguen a las personas correctas en forma oportuna fue registrado como una preocupación mayor para muchos de los encuestados.

"Para la mayoría de los equipos de TI, el gerenciamiento de alertas es un proceso tedioso y manual que involucra planillas de cálculo, calendarios compartidos, localizadores y teléfonos", afirmó Sanjay Castelino, vice presidente y líder de marketing de SolarWinds. "Estos métodos en definitiva dependen de los individuos para comunicar los problemas de forma oportuna, lo que abre el camino al error humano y demanda uso del tiempo innecesariamente. A nadie le gusta ser despertado durante la madrugada debido a un problema que no le está dirigido, o descubrir que un problema que debía haber sido comunicado nunca recibió la atención necesaria".