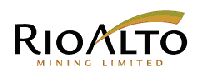 VANCOUVER, BRITISH COLUMBIA -- (Marketwire) -- 03/06/13 -- EDITORS NOTE: There are 4 maps associated with this release.

Rio Alto Mining Limited ("Rio Alto" or the "Company") (TSX: RIO)(LMA: RIO)(NYSE: RIOM)(DBFrankfurt: MS2) is pleased to report the results of the first 30 drill holes at its La Colorada West Zone gold exploration target. The first drill program had two objectives - to identify potential economic mineralization and to sterilize areas that might be suitable for future mining infrastructure. Both objectives were achieved. 19 drill holes intercepted potentially economic mineralization at shallow depths. 11 drill holes targeted sites for future processing facilities.

La Colorada is located 8.4kms from the Company's La Arena Gold Mine and covers an area of 1,500 hectares. All of the mining claims and surface rights over the La Colorada project are owned by Rio Alto (Map 1).

Highlights of the 30-hole, 6,970 meter reverse circulation ("RC") drilling program were:


Hole            From        To     Interval     Au gpt------------------------------------------------------CO-R12-002        14        92           78       1.34CO-R12-003         0        30           30       0.94CO-R12-018         2        86           84       1.16                         Table 1
For 2013 a $7 million exploration program is in progress at La Colorada. The objective of this work is to define an initial resource estimate for the project and test three other targets in the vicinity - La Colorada East and Esperanza South and North.
The 2013 exploration program will consist of:
--  Resource definition drilling at La Colorada West including 3,000m of    diamond drilling and 6,000m of reverse circulation (RC) drilling--  Detailed mapping (1:5,000 scale) and sampling at La Colorada East,    Esperanza North and South--  5,000m of RC exploration drilling at La Colorada East--  8,000m of RC exploration drilling at Esperanza South and North--  3,000m of diamond drilling (6 holes) to test a chargeability anomaly at    Esperanza South
From 1996 to 1999 Cambior conducted geological mapping, sampling of rocks and soils and eventually drilled 3,367 meters in 20 holes of which 6 holes intercepted gold mineralization in the La Colorada West Zone.
Rio Alto commenced work at La Colorada in October 2012 and focused on the La Colorada West and La Colorada East Zones. Exploration activities in late 2012 and early 2013 included:
--  Geological mapping at a 1:2000 scale at La Colorada West--  Gathering 1,622 rock chip samples and 2,453 soil samples from La    Colorada West and East Zones--  Conducting 67.2kms of induced polarization and magnetometry geophysics    over an area of 700 hectares--  Topographical mapping of 740 hectares--  RC drilling of 6,970 meters in 30 holes resulting in 3,485 samples.
La Colorada West covers an area of 1.5km by 0.5km and appears to be open to the east and southeast. The lithology is made up of sandstones and breccias from the Chimu formation. The breccia zones are hydrothermal with iron oxide and silica filling the breccia matrix and the alteration is mainly dickite-zunyite and alunite. The lithology map shows the location of sandstones and shale intruded by hydrothermal breccias (in red) that may be a host to economic gold mineralization (Map 2).