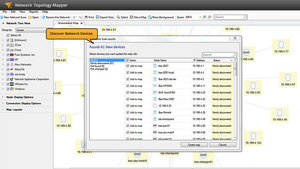 SolarWinds Network Topology Mapper (NTM) discovers all devices for high-accuracy network mapping that can be exported to SolarWinds Network Performance Monitor and Microsoft Visio.



AUSTIN, TX -- (Marketwire) -- 03/06/13 -- SolarWinds (NYSE: SWI), a leading provider of powerful and affordable IT management software, today announced the release of SolarWinds Network Topology Mapper (NTM), a network mapping, discovery and inventory solution that joins SolarWinds' comprehensive suite of network management solutions.

"We've found SolarWinds Network Topology Mapper to be very useful for accurately mapping out layer 2 and 3 network topology -- the map presentation and varied data displays are incredibly helpful," said John Spanitz, senior systems administrator for Just Born, Inc. "Using SolarWinds NTM as the basis for our SolarWinds Network Performance Monitor and SolarWinds Server & Application Monitor maps helps us quickly provide the visual monitoring overview we need, potentially saving us hours of time."

SolarWinds NTM allows IT pros to present more accurate, detailed network maps for easy viewing and publishing.

•Create detailed and dynamic network topology maps: Collect multi-level network information for maps with node icons, colored speed connectivity lines, labels and more to provide easy-to-read, comprehensive maps of the entire network or of individual network segments. Map details can include IP addresses, MAC addresses, DNS names, node names and switch port connections.

•Discover all devices on the network with multi-protocol network discovery: Choose from ICMP, SNMP v1-v3, WMI, CDP, LLDP, and VMware polling to create a comprehensive list and detailed diagram of the network. Adjust representation to show the entire network, specific devices, or layer 2 and layer 3 information, and streamline reporting with Microsoft Office Visio exports.

•Maintain maps for network regulatory compliance: Create detailed network maps and connections to cardholder data and help meet preventative and detective control requirements by displaying changes to network topology. Schedule scans to maintain up-to-date maps, track switch port activity, find rogue devices, and directly address audit requirements for a variety of standards including PCI and HIPAA.



"Network mapping is a vital tool in the network engineer's arsenal, and SolarWinds NTM provides an easy to use tool that incorporates most of the technological advances in networking technologies," said Sanjay Castelino, VP of products, SolarWinds. "We know that IT pros are responsible for keeping an eye on the network and presenting network information in a clear, concise manner. We also know that IT pros have a lot of demands on their time. SolarWinds NTM provides a better starting point for IT pros to understand their network."