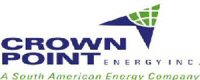 CALGARY, ALBERTA -- (Marketwire) -- 03/06/13 -- Crown Point Energy Inc. (TSX VENTURE: CWV) ("Crown Point" or "the Company") is pleased to provide the following operational update:

PRODUCTION UPDATE

Crown Point's net daily production during January and February of 2013 has averaged 1,840 boe/d comprised of 1,590 boe/d from Tierra del Fuego and 250 bbls/d of oil from El Valle. El Valle production has been negatively impacted by the failure of a down hole pump in one of the newly drilled wells.

CERRO DE LOS LEONES CONCESSION - Neuquen Basin, Mendoza

Crown Point's Cerro de los Leones 160 km2-3D and 122 km-2D seismic program field data acquisition in the southern section of the concession was completed in December 2012. Management expects seismic processing and interpretation will be completed by the end of April with drilling location selection and an application for a drilling license to follow.

LAS VIOLETAS, ANGOSTURA SUR, RIO CULLEN CONCESSIONS, Austral Basin, Tierra del Fuego

The bulk of Crown Point's production and reserves are located on the Las Violetas Concession, Tierra del Fuego. Crown Point's net daily production at Tierra del Fuego for January and February has averaged 1,590 boe/d which is comprised of 7.63 mmcf/d of gas and 325 bbls/d of oil and liquids.

The ten year extension agreements (extending the termination date of the three concessions to 2026) negotiated in late 2012 with the provincial government of Tierra del Fuego, have been signed by the Governor and are waiting for ratification by the Provincial Legislature during the current parliamentary session. After ratification, a multi-well drilling program, focussing on increasing Gas Plus Production is planned to commence on the Los Violetas concession. The Company also plans to acquire 3-D seismic on the Angostura Sur and Rio Cullen concessions during 2013. Crown Point's Tierra del Fuego concessions are high quality natural gas weighted assets that Crown Point believes possess the capability to deliver increased levels of production and reserves in an increasing natural gas price market.

In 2012 a successful five well fracture stimulation program was conducted and has proved to be very effective resulting in low overall field declines. These fracture stimulations were primarily focused in the designated Gas Plus area which yields a gas plus sales price of $4.10/mcf. Recently the government of Argentina announced a new gas price of $7.50/mcf for "New Gas" to be obtained under a federal government administered program. The Company intends to apply for this higher price and is required to submit an application for the new gas program prior to the end of June 2013.

EL VALLE Concession, San Jorge Basin, Santa Cruz

Operations Update

Last year Crown Point completed a six well drilling program at El Valle, resulting in five new oil wells and one suspended well. Close proximity to electricity has allowed two of the new wells to utilize a new type of progressive cavity pump (HRPCP Progressive Cavity pump) which has technology that enables it to handle high GOR (gas/oil ratio) oil more efficiently.