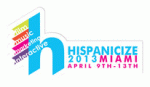 MIAMI, FL -- (Marketwire) -- 03/05/13 --


•Competition deadline extended to March 21 •El Buen Pitch is the "The Apprentice"-style competition that will recognize one agency for creating the best marketing campaign for this national non-profit organization

Senior Hispanic marketing executives from Target, Kellogg's and The Sherwin-Williams Company today were named the official judges of the "El Buen Pitch" competition of Hispanicize 2013 (www.HispanicizeEvent.com), the annual Latino trends event taking place April 9-13 in Miami Beach.

Co-created by Hispanicize event organizers and Hispanic market trade journal PRODU, "El Buen Pitch" is an "The Apprentice"-style competition that will recognize one Hispanic marketing agency for creating the best marketing campaign for a national non-profit organization serving Latino communities. This year organizers selected PADRES Contra El Cáncer (PADRES) as the non-profit entity focus of the national competition.

The Fortune 500 judges who will personally question the three top finalists at Hispanicize 2013 are: Ralph de la Vega, president and CEO of AT&T Mobility and Consumer Markets; Nydia Sahagun, Sr. Manager, Multicultural - Brand Marketing, Target; David Riveiro, Multicultural Marketing, The Sherwin Williams Company; and Christopher Rivera, Associate Director, Brand Marketing - Multicultural, Kellogg's.

"We are honored to have these prestigious judges join us because they are helping us elevate what this competition is about -- a contest that has both heart and purpose to help others," said Manny Ruiz (@MannyRuiz), founder and creative director of Hispanicize 2013.

"El Buen Pitch" is open to all agencies with Hispanic market expertise and that submit their entry forms by March 21, the new deadline. Full entry information is available at http://www.hispanicizeevent.com/el-buen-pitch.html.

HOW IT WORKS

Qualifying agencies must submit a marketing plan that addresses the creative brief provided by PADRES Contra el Cáncer.

A committee made up of Hispanic marketing professionals and representatives from PADRES Contra el Cáncer will select three finalists that will be chosen to present their campaign recommendations live at Hispanicize 2013 in front of the three senior Hispanic brand marketing. In addition to PRODU, the competition is being produced in partnership with Hispanic Market Weekly, The Hispanic PR Blog and the Public Relations Society of America.