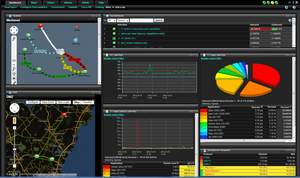 Advanced network traffic monitoring platforms offer significant improvements in network operational efficiency.


KENNEBUNK, ME -- (Marketwire) -- 03/05/13 -- As a leading provider of flow-based network traffic monitoring and threat detection technology, Plixer International, Inc., today announced a complimentary webcast titled, "Quantifying the Value of Network Traffic Monitoring: ROI Case Studies by EMA." The online event will be held on Thursday, March 14th at 10am (ET) and 4pm (ET), and will offer insight on leveraging network flow monitoring techniques to realize significant application performance enhancements as well as experience a considerable return on investment (ROI).

Michael Patterson, Plixer's CEO joins Jim Frey, Managing Research Director from Enterprise Management Associates, to convey detailed information regarding best practices for analyzing and troubleshooting irregular traffic patterns as well as the operation benefits realized. In addition, the discussion will also reveal a documented ROI for companies deploying NetFlow, IPFIX, sFlow and other related flow-based monitoring technologies.

"Our research consistently indicates that application awareness in network engineering and operations pays substantial dividends in improving IT alignment with, and responsiveness to, the organization it supports," Frey said. "Our case study research has also documented that qualitative returns further complement quantitative returns -- resulting in compelling total value received from the deployment and use of network traffic monitoring solutions."

Created as a resource for IT professionals, the webcast will demonstrate the value of enhanced metric visibility. Additional topics presented include:

•WAN Traffic Monitoring Requisites •Reporting on Flow Volumes, Applications, Top Talkers •Next Generation Exports: NBAR, Medianets •Threat Detection on Outbound Connections •End to End / Hop by Hop Visibility of Connections

"We are proud to be presenting our research which clearly illustrates that organizations who utilize advanced network traffic monitoring platforms recognize significant improvements in their network operational efficiency, IT planning, and compliance adherence," Patterson concluded.