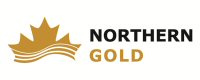 TORONTO, ONTARIO -- (Marketwire) -- 03/05/13 -- NORTHERN GOLD MINING INC. (TSX VENTURE: NGM) ("Northern Gold" or the "Company") is pleased to announce results of the first three diamond drill holes from its winter surface diamond drilling program on its newly acquired Buffonta Property, comprised within the Golden Bear Project, 100 km east of Timmins, Ontario. The three drill holes totaled 997.5 metres. To date, fifteen drill holes totaling over 5,000 metres have been completed during the winter drilling program.

Drill assay highlights of the three drill holes include:


--  3.50 g/t Au over 3.0m (106.5 to 109.5m) BUF-12-01--  7.99 g/t Au over 1.15m (206.85 to 208.0m) BUF-12-01--  5.95 g/t Au over 2.0m (26.0 to 28.0m) BUF-12-02--  4.82 g/t Au over 7.5m (144.5 to 152.0m) BUF-12-02
Greg Gibson, President and CEO of Northern Gold, commented: "These drill intercepts uncover mineralization beyond the known historical resources on the Buffonta Property with grades in line with these resources. We are definitely encouraged by the geology and mineralization we continue to encounter and look forward to providing further results as they become available."
Drill hole BUF-12-01 was collared on section L26+50, targeting mineralization below the past-producing Kerr Pit. Drill holes BUF-12-02 and BUF-12-03 were collared on section L26+00, 50 metres to the east. Drill hole BUF-12-03 is an undercut of hole BUF-12-02, collared 50 metres to the north. All holes were drilled at -45 degrees grid south.
All three drill holes successfully intersected significant gold mineralization hosted in either quartz veins or silica-flooded zones in variolitic and massive basalt at or proximal to the contact with the southeasterly-striking Buffonta Fault and felsic dykes which are interpreted to emanate from the Garrison granodioritic intrusive stock. Mineralization is typically associated with 1-3% sulphides (pyrite, chalcopyrite, and molybdenite). Also of note, drill holes BUF-12-01 and BUF-12-03 intersected kimberlite at the Buffonta Fault.
The objective of the current drilling program is two-fold: to confirm the extension of mineralization below the Kerr Pit and to test for continuity between the Kerr Pit and Zones No.5 and No.6, located 350 metres to the southeast. The Buffonta Property hosts 3 known gold zones - Kerr Pit, No. 5 Zone, and No. 6 Zone. Historical production reports indicate that 9,000 ounces of gold were recovered from a total of 70,000 tons milled at the Kerr-Addison Mill. In addition, these reports also suggest that a resource (unclassified) of 600,000 tons of material averaging 0.17 ounces of gold per ton remains in the 3 Zones. (source: Ontario Geological Survey, OFR 5735, 1990). A qualified person has not done sufficient work to classify the Buffonta historical resource as current and this resource should not be relied upon.
Table 1 - Buffonta Drill Assay Results----------------------------------------------------------------------------                                   From     Inc       To    Interval  Au g/tHole ID         Zone Section(i)     (m)     (m)      (m)         (m)   Uncut----------------------------------------------------------------------------BUF-12-01   Kerr Pit     L26+50   40.00            41.00        1.00    1.47----------------------------------------------------------------------------                                  52.00            53.00        1.00    1.10----------------------------------------------------------------------------                                  59.00            64.80        5.80    1.36----------------------------------------------------------------------------                                  72.50            73.50        1.00    4.22----------------------------------------------------------------------------                                 102.50           109.50        7.00    1.78----------------------------------------------------------------------------                                         106.50   109.50        3.00    3.50----------------------------------------------------------------------------                                 112.50           114.50        2.00    1.95----------------------------------------------------------------------------                                 167.50           168.50        1.00    1.99----------------------------------------------------------------------------                                 206.85           208.00        1.15    7.99----------------------------------------------------------------------------                                 225.00           226.00        1.00    4.36----------------------------------------------------------------------------BUF-12-02   Kerr Pit     L26+00   26.00            28.00        2.00    5.95----------------------------------------------------------------------------                                  31.00            32.00        1.00    1.66----------------------------------------------------------------------------                                  86.00            87.00        1.00    1.72----------------------------------------------------------------------------                                 116.00           117.00        1.00    1.89----------------------------------------------------------------------------                                 121.00           122.00        1.00    1.38----------------------------------------------------------------------------                                 137.50           138.50        1.00   10.90----------------------------------------------------------------------------                                 144.50           152.00        7.50    4.82----------------------------------------------------------------------------                                         144.50   147.20        2.70   10.40----------------------------------------------------------------------------                                         144.50   145.00        0.50    3.29----------------------------------------------------------------------------                                         146.00   147.20        1.20   21.90----------------------------------------------------------------------------                                         150.00   152.00        2.00    3.92----------------------------------------------------------------------------                                 189.00           190.00        1.00    1.06----------------------------------------------------------------------------BUF-12-03   Kerr Pit     L26+00   19.00            20.00        1.00    4.17----------------------------------------------------------------------------                                  93.00            94.00        1.00    1.33----------------------------------------------------------------------------                                 170.65           180.30        9.65    1.38----------------------------------------------------------------------------                                         170.65   173.65        3.00    1.86----------------------------------------------------------------------------                                         177.30   180.30        3.00    2.28----------------------------------------------------------------------------                                 213.50           214.50        1.00    2.22----------------------------------------------------------------------------                                 221.25           222.25        1.00    1.50----------------------------------------------------------------------------                                 235.25           239.00        3.75    1.00----------------------------------------------------------------------------                                 266.00           267.00        1.00    2.87----------------------------------------------------------------------------                                 271.00           275.00        4.00    1.40----------------------------------------------------------------------------Notes:(i) Significant assays from three drill holes drilled on line sectionsL26+50 and L26+00 between the Kerr Pit and the No. 5 and 6 Zones. Intervalsreported are downhole lengths; true widths of mineralization are not yetknown.Table 2 - Location and Initial Orientation of Drill Holes----------------------------------------------------------------------------              Section Line      Section Line   AzimuthHole ID            Easting          Northing    (True) Inclination (degrees)----------------------------------------------------------------------------BUF-12-01           L26+50            10+025       235                   -45----------------------------------------------------------------------------BUF-12-02           L26+00            10+025       235                   -45----------------------------------------------------------------------------BUF-12-03           L26+00            10+075       235                   -45----------------------------------------------------------------------------