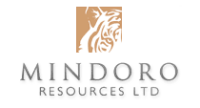 MELBOURNE, AUSTRALIA -- (Marketwire) -- 03/05/13 -- Mindoro Resources Ltd. (TSX VENTURE: MIO) (ASX: MDO) (FRANKFURT:WKN 906167) is pleased to announce that ASX listed Red Mountain Mining Ltd (ASX: RMX, "Red Mountain"), majority owned by Mindoro, has disclosed results from a further nine drill holes on the West Drift Prospect, Batangas project, Luzon Island, Philippines.

Past mining (1960's) was of a high sulphidation copper-silver zone, whereas current drilling is targeting a metallurgically simpler, low-sulphidation mineralization phase (relatively higher gold and less copper, arsenic and silver). Gold results continue to be encouraging and appear to confirm the presence of a high-grade, low-sulphidation gold mineralization phase at deeper levels.

Significant drill results appear in the table below. Highlights are:


--  LB-68, 25m south of LB-70, intersected 4.9m @ 4.47 grams per tonne (g/t)    Au from 177.5m depth downhole (est. true width 3.8m) including 1.55m @    7.37 g/t Au.--  In addition, LB-68 intersected a shallower, silver-rich vein-breccia on    the hanging wall of the main mineralized structure, which produced 1.5m    @ 499.4 g/t silver (Ag) including 0.5m @ 1,488 g/t Ag from 43.4m down    hole (insufficient data are at hand to estimate true width at this    stage). This mineralization appears to correlate with a silver-rich    vein-breccia previously intersected (LBDD-002), 60-80 m distant, which    gave greater than 200 g/t Ag over 0.65m (currently being re-assayed to    determine precise value).--  The shallow-dipping silver vein-breccia has now been located in outcrop    at surface and is being mapped. Surface sampling and re-assaying of    drill core has been carried out and results are awaited.--  LB-70 intersected 6.3m @ 8.03 g/t Au from 197.8m depth down hole (est.    true width 5.6m) including 4m @ 11.18 g/t Au (this is the deepest high-    grade gold intersection on West Drift to date).--  LB-71: intersected 4m @ 3.17 g/t Au from 196m depth downhole.--  LB-73: intersected 10m @ 2.80 g/t Au from 170.8m depth downhole    including 3m @ 4.58 g/t Au and 3m @ 3.49 g/t Au, 200m northeast of the    LB-76 intersection.--  LB-76: intersected 5.2m @ 6.05 g/t Au from 138.25m depth down hole    including 1.05m @ 16.97 g/t Au, extending the high-grade gold    mineralization to the most southern cross-section drilled to date.
These new intersections are part of an aggressive drilling program by Red Mountain at West Drift. Two drill rigs are targeting high-grade gold with the objective of converting the gold mineralisation to mineral resource inventory in accordance with the JORC Standards. A total of 11 holes for 2,158 metres have been completed to date and the program is on-going.
The gold zone at West Drift has now been delineated over a 200 metre strike length within a plus 400 metre strike length target zone Strong mineralization and alteration intersected to date are indicative of a well-developed mineralization system that has excellent potential. Deeper drilling on 50 metre spaced centres has commenced to test below LB-70 (see Figures 1 and 2 below).
Details of the new drilling results are contained in Table 1 below:
             Northing Easting   Azim.Drill hole      (Grid)  (Grid)   (Mag)         Dip  Depth m  From m     To m----------------------------------------------------------------------------                                  145LB 68        10647.3   9183.7 degrees  -87 degrees    221.8    43.4    44.95----------------------------------------------------------------------------Including                                                      43.4     43.9----------------------------------------------------------------------------LB 68                                                         177.5    182.4----------------------------------------------------------------------------Including                                                     180.3   181.85----------------------------------------------------------------------------                                  145LB 69        10773.5   9188.2 degrees  -82 degrees    220.0  198.35    200.4----------------------------------------------------------------------------                                  145LB 70        10673.1   9165.0 degrees  -81 degrees    229.8   197.8    204.1----------------------------------------------------------------------------Including                                                     198.8    202.8----------------------------------------------------------------------------                                  145LB-71        10773.5   9188.2 degrees  -87 degrees    220.1   196.0    200.0----------------------------------------------------------------------------                                  145LB-72        10673.1     9165 degrees  -66 degrees    189.4   170.7    172.8----------------------------------------------------------------------------                                  145LB-73        10798.5   9188.5 degrees  -81 degrees    198.4   170.8    180.8----------------------------------------------------------------------------Including                                                     170.8    173.8----------------------------------------------------------------------------Including                                                     176.8    179.8----------------------------------------------------------------------------                                  145LB-74        10625.4   9198.9 degrees  -80 degrees    149.9   136.4    137.6----------------------------------------------------------------------------                                  145LB-75        10896.0   9188.2 degrees  -50 degrees    147.6   140.7    147.6----------------------------------------------------------------------------                                  187LB-76        10625.1   9199.1 degrees  -73 degrees    165.4   138.25  143.45----------------------------------------------------------------------------Including                                                     139.40  140.45----------------------------------------------------------------------------            11 drill              holes. Total        2,158m----------------------------------------------------------------------------                DH m                  Ag g/tDrill hole                 Au g/t                Cu %      Pb %      Zn %----------------------------------------------------------------------------LB 68           1.55        0.06      499.4      1.31      0.31      0.24----------------------------------------------------------------------------Including        0.5        0.11       1488      3.46      0.27      0.47----------------------------------------------------------------------------                                                        less than less thanLB 68            4.9        4.47       10.3      0.27       0.1       0.1----------------------------------------------------------------------------                                              less than less thanIncluding       1.55        7.37       23.7       0.1       0.1       0.2----------------------------------------------------------------------------                                              less than less than less thanLB 69           2.05        3.51       1.1        0.1       0.1       0.1----------------------------------------------------------------------------                                              less than less than less thanLB 70            6.3        8.03       2.07       0.1       0.1       0.1----------------------------------------------------------------------------                                              less than less than less thanIncluding        4.0        11.2       2.7        0.1       0.1       0.1----------------------------------------------------------------------------                                              less than less than less thanLB-71            4.0        3.17       4.3        0.1       0.1       0.1----------------------------------------------------------------------------                                                        less than less thanLB-72            2.1        2.67       4.5       0.10       0.1       0.1----------------------------------------------------------------------------                                                        less than less thanLB-73           10.0        2.80       5.94      0.11       0.1       0.1----------------------------------------------------------------------------                                                        less than less thanIncluding        3.0        4.58       10.8      0.22       0.1       0.1----------------------------------------------------------------------------                                              less than less than less thanIncluding        3.0        3.49       6.30       0.1       0.1       0.1----------------------------------------------------------------------------                                                        less than less thanLB-74           1.20        2.30       14.1       2.0       0.1       0.1----------------------------------------------------------------------------LB-75        6.9m stope intersected----------------------------------------------------------------------------LB-76           5.20        6.05----------------------------------------------------------------------------Including       1.05       16.97---------------------------------------------------------------------------- Total----------------------------------------------------------------------------