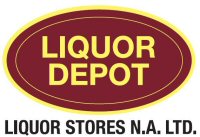 EDMONTON, ALBERTA -- (Marketwire) -- 03/05/13 -- Liquor Stores N.A. Ltd (the "Company") (TSX: LIQ), North America's largest publicly traded liquor retailer today reported its results for the fourth quarter and year ended December 31, 2012.

HIGHLIGHTS

Three months ended December 31, 2012


--  Opened or acquired 5 convenience-focused stores in Canada (2011 - 4) and    opened 1 large-format store in Kentucky (2011 - 1)--  Consolidated sales increased 6.6% to $179.4 million (2011 - $168.2    million)--  Same-store sales increased by 0.3% ($0.4 million) in Canada and    decreased by 1.5% ($0.6 million) in the US--  Gross margin increased to 25.4% (2011 - 24.9%)--  Adjusted operating margin was $14.4 million (2011 - $15.7 million)
Year ended December 31, 2012
--  Opened 2 new concept/large-format stores in Alberta ("Wine and Beyond"),    opened or acquired 6 convenience-focused stores in Canada (2011 - 4),    opened 1 large-format store in Kentucky (2011-1), and acquired 1    convenience-focused store in Kentucky--  Consolidated sales increased 6.5% to $630.1 million (2011 - $591.5    million)--  Same-store sales increased by 3.0% in Canada and 1.1% in the US--  Gross margin increased to 25.3% (2011 - 24.8%)--  Adjusted operating margin increased by 4.9% to $49.2 million (2011 -    $46.9 million)
"We are pleased with our fiscal 2012 results and with the execution of our strategic growth plan. During the year we added a total of ten new stores, including one large-format store in the United States and the introduction of two new concept/large-format stores in Canada, branded as Wine and Beyond." said Jim Dinning, Chairman of the Board of Directors and Interim Chief Executive Officer. "Wine and Beyond, which has the largest selection of wine, beer and spirits in Canada, has exceeded our expectations and has been well received by our customers. These destination-type stores differentiate us from our competitors and are a cornerstone of our plan to drive sales, improve profitability and deliver shareholder value."
The 6.5% sales increase for the year ended December 31, 2012 compared to 2011 was attributable to same-store sales increases in both Canada and the United States, and growth in the Company's store count. Gross margin as a percentage of sales in 2012 increased to 25.4% from 24.9% in 2011. The 'quarter over quarter' increase in gross margin percentage represents the fifth consecutive quarterly increase.
The Company added a total of ten (10) new stores in Alberta, British Columbia and Kentucky in 2012 and has added fifteen (15) new stores since the beginning of Q4 2011. This significant increase in store count as compared to recent prior years (2011 - net 2 new stores; 2010 - net 1 new store) is the result of the successful execution of the Company's new growth strategy.
The ten (10) new stores in 2012 included one (1) large-format Liquor Barn store in Kentucky that was opened in December 2012 and two (2) new concept/large-format liquor stores in Alberta branded as "Wine and Beyond" (each in excess of 17,000 square feet) that were opened during the last week of September 2012. Wine and Beyond are upscale stores that have a strong focus on wine and customer service. Management believes that these stores carry the largest selection of wines, spirits and beers in Canada. Fashioned similar to our large-format stores in the US, these destination-type stores complement the Company's convenience-focused Liquor Depot and Liquor Barn stores in Alberta. The financial results for the Wine and Beyond stores in the fourth quarter exceeded Management's expectations.