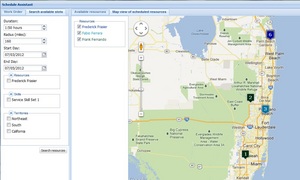 Scalable field service management system FieldOne Sky now available to Latin American customers.



MAHWAH, NJ -- (Marketwire) -- 03/05/13 -- Expanding its global reputation as a market leader in cloud-based field service management (FSM) solutions, FieldOne Systems today announced a partnership with Grupo i9. As part of the agreement, Grupo i9 will now offer the award-winning FieldOne Sky solution to its Latin American customers starting in Brazil, the world's sixth largest economy.

Grupo i9 is considered one of the market's leading integrators of Microsoft products in Latin America. The company works closely with customers to develop solutions customized to meet individual needs. The company deploys and services a full range of Microsoft products, including Dynamics CRM, Dynamics AX and SharePoint. FieldOne Sky will become an integrated part of Grupo i9's existing Microsoft solutions portfolio.

FieldOne Sky is a secure and scalable field service management system -- allowing service organizations to streamline business processes. Sky eliminates paperwork at every stage of a work order process -- from service contracts to scheduling, from inventory to accounting. In addition, the offering enables technicians with real-time access to such critical detail as information and client history -- as well as the ability to capture customer signatures onsite via smartphones and tablets of their preference -- including Microsoft's® new Surface Tablet. Due to these features, Sky is quickly becoming one of the field service management market's leading mobile field service tools -- driving new levels of workforce productivity and client satisfaction while reducing operational inefficiencies.

In addition, FieldOne Sky is a cloud-based solution that offers full integration into back-office ERP and CRM systems. Daniel Oliveira, responsible for the CRM division at Grupo i9, explains the integration value further, "The Dynamics CRM solution is perhaps one of the most powerful solutions of its kind -- helping customers to significantly increase efficiencies and optimize resources," he said. "Leveraging the power of Microsoft, FieldOne Sky takes these capabilities one step further, providing customers with a full function platform to manage their service operations with far greater efficiencies. We fully expect the FieldOne solution to have a dramatic impact for our customers across Brazil."