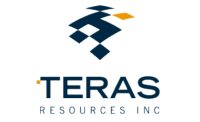 CALGARY, ALBERTA -- (Marketwire) -- 03/28/13 -- Teras Resources Inc. ("Teras" or the "Company") (TSX VENTURE: TRA) (OTCQX: TRARF): Teras is pleased to provide a corporate update and report new gravity results from recent geophysical surveys for the Cahuilla gold/silver project in Imperial County, California. The gravity surveys have recognized multiple apparent new structural targets including possible deep high grade feeder zones and additional shallower anomalies beneath gravel cover throughout the project area.

Gravity Survey. The following illustration reveals multiple gravity anomalies possibly representing structural breaks or faults indicated in orange/red/purple colors. The map also shows the location of the NI 43-101 resource and many potential new precious metal targets throughout the project area that were interpreted from the gravity survey results.

To view the map referenced above, click the following link: http://media3.marketwire.com/docs/tra_map.pdf

The anomalies shown to the southwest, northeast and east may represent shallow disseminated and high grade vein targets that could substantially increase near-surface precious metal resources as delineated in our 2011/2012 drill program. The large structural breaks interpreted to the south and around the circumference of the main resource area may signify deeper potential high grade feeder zones which are the primary objective of the geophysical surveys. It should be noted that many of the new anomalies are located outside of the current drill permit boundary and environmental surveys are in progress to expand the drill permit to encompass the entire project area.

Teras is awaiting final results of the MT and IP surveys which will be used in conjunction with the gravity to better target deeper high grade feeder zones, shallower disseminated/vein targets and potential mineralized areas covered by shallow gravels. Once the geophysical interpretations are complete, the Company plans to drill test targets that occur within the permitted area. A total of 230 holes may still be drilled within the existing permitted area.

Peter Leger, President and CEO of Teras Resources, commented "We are optimistic the geophysics will help to increase the potential size of the current resource and also identify high impact target areas including deeper high grade feeder zones which could improve the overall grade of the project. The gravity data has identified many exciting new drill targets that will allow us to effectively schedule our forthcoming drill program. Over the next few months, we will develop a focused drilling strategy to expand our current precious metal resources and identify potential deeper high grade feeder zones that could significantly enhance this exciting project."

Mr. Leger also remarked "While geophysics does not directly confirm mineralization; comparing drill results and geology at Cahuilla with geophysics provides our management team high confidence that the project could potentially be much larger than the current resource. We have always believed our project has the capability to be world class in size and we are moving in the direction to fulfill our goals."