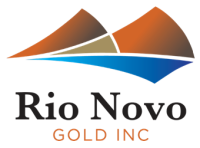 TORONTO, ONTARIO -- (Marketwire) -- 03/28/13 -- Rio Novo Gold Inc. (TSX: RN) (TSX: RN.WT) ("Rio Novo" or the "Company") has filed its operational and financial results for the year ended December 31, 2012. The Company's audited consolidated Financial Statements and the accompanying Management's Discussion and Analysis ("MD&A") can be found on SEDAR (www.sedar.com). The Company is pleased to provide a general overview of some important milestones to date on its projects.

During the year ended December 31, 2012, Rio Novo incurred a net loss of US$ 6,284,119 (US$ 0.06 per share) compared to a net income of US$ 11,196,314 (US$ 0.10 per share) in 2011. Among the factors that contributed to the net loss in the period were a loss of US$ 533,988, attributed to differences in foreign exchange due to US dollar, Brazilian real and Colombian peso exchange rate fluctuations, and interest income and other income increases of US$ 957,294. The net loss also reflected the gain on share purchase warrant revaluation of US$ 2,139,634, attributed to the fair market value warrant adjustment on December 31, 2012.

As at December 31, 2012, the Company had working capital of US$ 5,212,721 and a net cash position of US$ 6,136,842.

Rio Novo 2012 Quarter Corporate Highlights

Highlights for the year ended December 31, 2012 included:

Almas Gold Project

Rio Novo completed a positive definitive Feasibility Study ("FS") of its 100%-owned Almas Gold Project ("Almas"), located in Tocantins State, Brazil. The NI 43-101 compliant FS confirms a technically feasible and economically robust project, with Proven & Probable Reserves of 763,940 ounces of gold, based on a gold price of US$ 1,350 per ounce. The Project is expected to yield a base case, after-tax, 5.0% net present value ("NPV") of $131.2 million and an internal rate of return ("IRR") of 22.1%, using assumed flat LOM gold price of $1,450.00 per ounce. The results of the FS were presented to Rio Novo's Board of Directors and unanimously approved. The construction of the Almas project is now subject to the successful arrangement of project financing.

During the fourth quarter, the Company focused on finalizing the Feasibility Study and soon after its approval it started low cost project development activities. There was no exploration drilling carried out during the quarter at Almas. For the year 2012, the Company has completed 8,150 metres of exploration drilling with a focus on developing the next generation of advanced targets at Almas. As the Almas Gold Project completed its feasibility work, Rio Novo has shifted exploration strategy at Almas to focus on discovering new, higher grade resources close to proposed infrastructure.

Management continued to work along with its financial advisor, Endeavour Financial, on identifying and structuring a suitable project financing package for the Almas project. Discussions with potential lenders are in advanced stages and a number of indicative term sheets have been received by the Company. A final independent due diligence report to support credit committee process is still pending as of the date of this press release, however it is near completion. Management believes that upon delivery of the independent due diligence report, the Company will be in a better position to estimate the debt funding timeline.