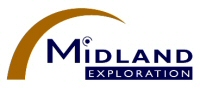 MONTREAL, QUEBEC -- (Marketwire) -- 03/28/13 -- Midland Exploration Inc. ("Midland") (TSX VENTURE: MD) is pleased to report that drilling has resumed following the discovery of two new gold-bearing structures during its recent winter drilling campaign on its Laflamme property, located about 25 kilometres northwest of the town of Lebel-sur-Quevillon, Quebec.

During the drilling campaign, a total of seven (7) drill holes totalling 1,619.0 metres were completed to test geophysical targets located along strike from Maudore's recent discovery, where grades of 71.7 g/t Au over 1.2 metres and 0.8 g/t Au over 40.8 metres were reported, about 12 kilometres northwest of the Comtois gold deposit (Source: Press release by Maudore dated June 6, 2012).

Drill hole LAF-13-21, testing a VTEM-type conductor, intersected a new gold-bearing structure in sheared mafic volcanic rocks with pyrite-pyrrhotite mineralization, which graded 0.34 g/t Au over 25.56 metres from 144.0 to 169.56 metres, including 3.12 g/t Au over 1.50 metres from 145.50 to 147.00 metres, and 1.95 g/t Au over 1.25 metres from 167.85 to 169.10 metres. Moreover, a downhole PEM geophysical survey completed in this hole revealed the presence of an unexplained off-hole conductor that will be followed up by drilling during the upcoming campaign. This new gold structure is located about 3.5 kilometres northeast of the Maudore discovery.

About 2 kilometres southwest of the Maudore discovery, two drill holes completed along the same section intersected another gold-bearing structure with pyrite mineralization, occurring at the contact between silicified pillowed mafic rocks and sericitized felsic rocks. Drill hole LAF-13-24 encountered an interval grading 0.40 g/t Au over 5.70 metres from 59.10 to 64.80 metres, including 1.72 g/t Au over 1.00 metre from 59.10 to 60.10 metres, at a vertical depth of 50 metres, whereas drill hole LAF-13-23 returned a gold value of 0.34 g/t Au over 3.10 metres from 191.90 to 195.00 metres, about 100 metres below hole -24. This new gold-bearing structure is associated with a VTEM axis that remains unexplored at depth below hole -23 and along strike over more than 2.5 kilometres. Ground-based geophysical surveys are in the planning stages, to define new drilling targets along this structure.

Midland has resumed drilling on Laflamme with an additional two (2) drill holes planned for a total of about 300 metres, mainly designed to test the off-hole anomaly to the east and the lateral extension to the west of the gold-bearing structure intersected in hole LAF-13-21.

The Laflamme property covers more than 50 kilometres of favourable stratigraphy and structures with potential for orogenic gold, volcanogenic massive sulphides (Cu-Zn), and magmatic Ni-Cu-PGE deposits associated with ultramafic rocks. This property was initially acquired in 2008 based on the presence of significant gold, copper, and zinc anomalies in till, identified under the Octave project jointly led by the Ministere des Ressources Naturelles et de la Faune (MRNF) and the Geological Survey of Canada (GSC).