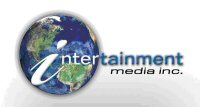 TORONTO, CANADA and NEW YORK, NEW YORK -- (Marketwire) -- 03/28/13 -- Intertainment Media Inc. ("Intertainment") (TSX VENTURE: INT)(OTCQX: ITMTF)(FRANKFURT: I4T) and Yappn Corp. (formerly named Plesk Corporation) (OTCBB: PSKC) are pleased to announce the completion of Intertainment's sale of its Yappn assets to New York based Yappn Corp. As previously announced on March 8, 2013, Intertainment has received 70 million common shares of Yappn Corp. as consideration for the transaction. Under its previously announced partnership program, Intertainment will control a minimum of 60% of the received shares of Yappn Corp. The existing shareholders of Yappn Corp. will control approximately 30 Million shares.

Scheduled to launch during Summer 2013, Yappn (www.yappn.com) will be an online social community where people can meet, chat, engage and consume media in multiple languages simultaneously. Powered by Ortsbo's (www.ortsbo.com) real-time multi-language technology, Yappn is set to create an engaged online community for users all over the world by providing access to topical discussion boards in almost 70 languages.

Unlike many social media sites, Yappn is not primarily "friend" focused, but instead will be "topic" or "interest" focused bringing people together to discuss current events, celebrities, technology, sports, entertainment and other popular areas of conversation. One of the key features of Yappn will be its ability to instantly translate comments in almost 70 languages, allowing people from around the world to view a conversation in their native language independently of what others see in their own language. This revolutionary system will enable real-time multiple language conversations to co-exist without the "fracturing" that comes as a result of many people posting in multiple languages to a single chat area.

In addition to the key multiple-language and interest based platform, Yappn will have an extensive "gamification" system allowing users to earn and spend "Yappn Coins" and earn badges and awards for participation in selected events.

Consumers and businesses are encouraged to sign up for the Yappn beta program and can learn more about the platform at www.yappn.com.

Like the Yappn Facebook page and follow Yappn on Twitter: @YappnCorp.

About Yappn Corp.

Set to launch in Summer 2013, Yappn (www.yappn.com) will be a place where people can meet, chat, engage and consume content, individually, in groups and by topic, regardless of the language they speak. By removing the language barrier, the entire world opens up to an entirely new paradigm of communication.

Yappn, with the power of Ortsbo (www.ortsbo.com), also offers a set of very powerful communication tools where users can create opportunities to meet, chat, engage and consume in their own virtual location creating global social engagement for private events and closed networks. Users can also connect to leading social networks and engage friends and followers on Facebook, Yahoo!, Twitter and more.