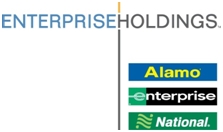 ST. LOUIS, MO -- (Marketwire) -- 03/28/13 -- Enterprise Holdings has received the 2013 Sustainability Outstanding Achievement Award from the Global Business Travel Association (GBTA), honoring the company as a leader among travel industry buyers, suppliers and intermediaries who are delivering best-in-class sustainability programs, products and services.

The Sustainability Outstanding Achievement Award -- from the GBTA and the organization's Project ICARUS sustainability program -- recognizes Enterprise Holdings' comprehensive, long-term commitment to responsible and sustainable business practices that continue to meet the evolving needs of consumers. "Our corporate customers are increasingly focused on sustainability and seeking like-minded business partners," said Brad Carr, vice president-corporate business development for Enterprise Holdings. "Sustainable business practices support both our bottom line and our customers' bottom line as part of the overall value chain. So we're very appreciative that the GBTA has recognized our efforts to be a strong business partner."

The nomination process highlighted the Enterprise CarShare hourly rental service and Enterprise Rideshare vanpooling program. It also cited Enterprise Holdings' fuel-efficient fleet -- particularly the company's efforts to promote emerging automotive technologies like hybrids and electric vehicles -- and its global network of more than 8,200 airport and neighborhood locations under the Enterprise Rent-A-Car, National Car Rental, and Alamo Rent A Car brands. Through its regional subsidiaries, the company operates more locations than any other U.S. competitor, ideally positioning Enterprise to help grow the market for innovative fuel and engine technologies and transportation alternatives.

Meanwhile, Enterprise Holdings continues to partner with other sustainability-focused organizations, including the Corporate Eco Forum, the Wharton Initiative for Environmental Global Leadership, the National League of Cities' Sustainable Cities Institute, the Transportation Sustainability Research Center and the Department of Energy's "Clean Cities" initiative. Enterprise Holdings also is one of only a handful of major travel companies (measured by revenue) to offer GRI-verified sustainability reports. GRI stands for the "Global Reporting Initiative," a non-profit organization that has pioneered and developed a comprehensive Sustainability Reporting Framework enabling all organizations to measure and report their economic, environmental, social and governance performance.