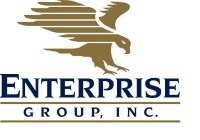 ST. ALBERT, ALBERTA -- (Marketwire) -- 03/28/13 -- Enterprise Group, Inc. (TSX: E) is pleased to announce the Company's year end results, and its sixth consecutive quarter of profitability. The Company's enhanced business strategy has resulted in a significant improvement in operating results from the previous year. Improved economic factors, refinancing of loans and the acquisition of Artic Therm International have all contributed to improved performance. Net income for the three months ended December 31, 2012 was $1,833,000 an increase of $946,000. The net income for the year ended December 31, 2012 was $2,489,000, an increase of $2,410,000. Included in net income is a deferred tax recovery of $350,000 as the result of management recognizing a deferred tax asset of $870,000 as management believes future profits will be sufficient to utilize existing loss carry forwards. Revenue for the Company was $6,648,000 for the three months ended December 31, 2012, an increase of $422,000 or 7%. For the year ended December 31, 2012, revenue grew to $18,504,000, an increase of $620,000 or 3.5%. EBITDAS(1) was $2,296,000, an increase of 83% for the fourth quarter of 2012 compared to the same period last year. For the year ended December 31, 2012, EBITDAS grew to $4,332,000, an increase of $1,822,000 compared to the same period last year.


SUMMARY FINANCIAL OVERVIEW For the three months ended For the year ended Dec 31 Dec 31 2012 2011 % chg 2012 2011 % chg ----------------------------------------------------------Revenue $ 6.6 $ 6.2 7% $ 18.5 $ 17.9 3%Gross Profit 3.4 1.7 98% 7.7 4.7 63%EBITDAS(1) 2.3 1.3 83% 4.3 2.5 73%Net Income 1.8 0.9 107% 2.5 0.1 3,055%EPS $ .04 -% change are representative of whole un-rounded numbers
Mr. Jaroszuk, Chief Executive Officer comments; "Our aggressive growth strategy and solid management team have forged the turnaround for Enterprise Group, Inc. in 2012. Enterprise is now positioned for future profitability".
"We look forward to a very exciting 2013 as we diversify our revenues with upcoming acquisitions in the utility, energy services and equipment rental industries. We will continue to seek unique, accretive acquisition targets and grow Enterprise Group, Inc. now and into the future" said Mr. Jaroszuk, Chief Executive Officer.
(1) EBITDAS = Earnings Before Interest, Tax, Depreciation, Amortization and Stock Based Compensation
About Enterprise Group, Inc.
Enterprise Group, Inc. is a consolidator of construction services companies operating in the energy, utility and transportation infrastructure industries. The Company's focus is primarily utility & infrastructure construction and specialized equipment rental. The Company's strategy is to acquire complementary service companies in Western Canada, consolidating capital, management and human resources to support continued growth. Enterprise became a Western Canadian leader in flameless heat technology in September 2012 with its acquisition of Artic Therm International Ltd. and is poised to become a technological leader in underground infrastructure construction upon closing of its pending infrastructure construction acquisition.
Forward Looking Information
Certain statements contained in this news release constitute forward-looking information. These statements relate to future events or the Company's future performance. The use of any of the words "could", "expect", "believe", "will", "projected", "estimated" and similar expressions and statements relating to matters that are not historical facts are intended to identify forward-looking information and are based on the Company's current belief or assumptions as to the outcome and timing of such future events. Actual future results may differ materially. In particular, statements with respect to the completion of the proposed acquisition, the terms and conditions of the transaction, the completion of an asset- based debt financing and financial information relating to the private company include forward-looking information. The proposed acquisition may not be completed on the terms and conditions contemplated herein or at all. The Company's Annual Information Form and other documents filed with securities regulatory authorities (accessible through the SEDAR website
www.sedar.com
) describe the risks, material assumptions and other factors that could influence actual results and which are incorporated herein by reference. The Company disclaims any intention or obligation to publicly update or revise any forward-looking information, whether as a result of new information, future events or otherwise, except as may be expressly required by applicable securities laws.
Non-GAAP Measures
This news release contains references to EBITDA. The Company uses accounting principles that are generally accepted in Canada (the issuer's "GAAP"), which includes without limitation, International Financial Reporting Standards ("IFRS"). EBITDA is not a measure that has any standardized meaning prescribed by IFRS and is therefore referred to as a non-GAAP measure. This non-GAAP measure used by the Company may not be comparable to a similar measure used by other companies. Management believes that in addition to net income, EBITDA is a useful supplemental measure as it provides an indication of the results generated by the Company's principal business activities prior to consideration of how those activities are financed or how the results are taxed. EBITDA is calculated as net income excluding depreciation, amortization, interest and taxes.


Contacts:
First Canadian Capital Corp.
Daniel Boase
416-742-5600
DBoase@firstcanadiancapital.com
145 Front Street East
Toronto, ON. M5A 1E3

Enterprise Group, Inc.
Leonard D. Jaroszuk
President & CEO
780-418-4400
contact@EnterpriseGRP.ca

Enterprise Group, Inc.
Desmond O'Kell
Vice President
780-418-4400
contact@EnterpriseGRP.ca
www.EnterpriseGRP.ca