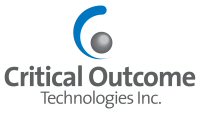 LONDON, ONTARIO -- (Marketwire) -- 03/28/13 -- Critical Outcome Technologies Inc. (COTI) (TSX VENTURE: COT) announced fiscal 2013 third quarter financial results today for the three and nine months ended January 31, 2013.

"We are pleased that our two strategies for commercial validation of our underlying CHEMSAS® platform technology continued to progress in the third quarter," said Dr. Wayne Danter, President and Chief Executive Officer.

"First, in our licensing strategy for COTI-2, our lead oncology asset, we moved forward with Destum Partners, Inc. (Destum), our licensing consultant, in an outreach program that began in December 2012. The Company in conjunction with Destum was in contact with over seventy potential licensees by the end of the third quarter. Continued dialogue, discussion and review of the non-confidential and confidential scientific data packages is ongoing and we look forward to the due diligence process unfolding over the coming months toward a licensing agreement," said Dr. Danter.

"In our second strategy related to collaborations, we signed an agreement in December 2012 with a multinational pharmaceutical company building on the two collaborations announced in the second quarter," noted Dr. Danter. "We completed much of our work on the initial phases of these three collaborations during the third quarter and we expect to get test results from the collaborators' efforts toward the end of the fourth quarter on the compounds we provided."

Operational Highlights

The Company continued to make steady progress in developing COTI-2 toward an investigational new drug filing leading to human clinical trials and a licensing transaction in the quarter.

The two-species toxicity studies initiated in late September 2012 continued during the quarter with final reports on the first phase of these studies received in early February. There were no issues identified and the balance of the toxicity studies are ready to proceed.

On December 13, 2012, the Company released important new test results proving that COTI-2, at a low dose, restores the normal protein configuration of the R175H p53 gene mutation and did not affect normal p53 protein. "The results demonstrated that COTI-2 stops susceptible cancer cells from replicating by correcting the effects of specific genetic errors affecting the p53 gene. These findings further improve the understanding of COTI-2's mechanism of action (MOA)," stated Dr. Danter.

In January 2013, the Company initiated further studies to evaluate COTI-2's impact on additional cancer cell lines that have a p53 gene mutation at the M.D. Anderson Cancer Center in Houston, TX. These studies with leading scientific experts in cancers impacted by the p53 mutation will broaden the understanding of the MOA and assist with licensing efforts and the design of the Phase 1 study to be submitted with the clinical trial package to the United States Food and Drug Administration.

Financial Highlights

The Company reported a net loss of $696,785 or $0.01 per common share for the three months ended January 31, 2013 (Q3-F'13) compared to a net loss of $619,550 or $0.01 per common share for the comparable quarter ended January 31, 2012. For the nine months ended January 31, 2013 (YTD-F'13), the Company reported a net loss of $2,182,223 or $0.03 per common share compared to a net loss of $1,910,337 or $0.03 per common share for the nine months ended January 31, 2012. The increased loss in Q3-F'13 of $77,235 related to two major functional expense areas; research and product development (R&D) expenses increased by $37,643 and sales and marketing (S&M) expenses increased by $45,874. The increased loss of $271,886 for YTD-F'13 related to an increase in R&D expense by $212,151, an increase of $37,195 in general and administrative expense and an increase of $51,863 in S&M expense.