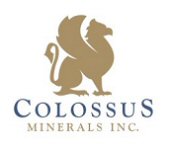 TORONTO, ONTARIO -- (Marketwire) -- 03/28/13 -- Colossus Minerals Inc. (the "Company" or "Colossus") (TSX: CSI)(OTCQX: COLUF) is pleased to provide a development update for its 75% owned Serra Pelada gold-platinum-palladium Mine. The Serra Pelada Mine is a joint venture between Colossus and Cooperativa de Mineracao dos Garimpeiros de Serra Pelada ("COOMIGASP") located in the State of Para, Brazil.

The Company, after market close on March 27, 2013, filed its Annual Audited Financial Statements and Annual Management's Discussion & Analysis ("MD&A"). For additional information regarding development progress discussed below, please refer to the above documents which can be found on the Company's website or on SEDAR (www.sedar.com).

HIGHLIGHTS


--  J. Alberto Arias, Founder, General Partner and Portfolio Manager of    Arias Resource Capital Management LP, who's shareholdings in Colossus    recently exceeded 10% of the common shares has been appointed to the    board of directors effective March 28, 2013.--  The Company remains on track to start initial production early in the    second half of 2013 at a rate of 250 tonnes per day ("tpd"). The    Company's ramp-up plans for reaching 1,000 tpd by the end of Q1 2014 are    still on track.--  The Company continues with cautious and systematic development through    the mineralized zone gathering valuable geotechnical information ahead    of initial production. Rock quality has remained within expected    parameters.--  Process plant construction remains on schedule for commissioning to    begin early in the second half of 2013; the total project is currently    70% complete. More than 97% of engineering & procurement is complete,    80% of concrete has been poured, half the structural steel for the    project has been delivered to site and structural steel erection    commenced in late February.--  Other critical infrastructure construction also remains on schedule. The    power line and power house are on track to be commissioned early in the    second quarter of 2013 while the tailings dam is expected to be ready in    conjunction with mill commissioning.--  The Company exercised its option under the Vale Option Agreement on Area    B.
Claudio Mancuso, Chief Executive Officer commented, "I am delighted to welcome Alberto Arias to the board of directors. Alberto's mining experience in Latin America complements our Board's skills and we all look forward to working with him as we continue to advance Serra Pelada to production. On the operations side, we are making steady progress and we are now within five months of commissioning the process plant. Underground development and infrastructure construction are progressing towards our initial production target of early in the second half of 2013."
CONSTRUCTION AND DEVELOPMENT ACTIVITIES
Underground Development
The Company continues its systematic and cautious approach of developing through the mineralized zone. The development is being carried out under geotechnical supervision and the Company has focused on detailed mapping of the different ground conditions encountered and the ground support methods utilized. This geotechnical data is being incorporated into the Company's mine plan.