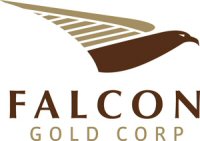 SUDBURY, ONTARIO -- (Marketwire) -- 03/27/13 -- Falcon Gold Corp. (TSX VENTURE: FG) ("Falcon" or the "Company") announces that Trelawney Mining and Exploration ("Trelawney"), wholly owned by IAMGOLD Corporation ("IAMGOLD"), have completed $600,000 in exploration expenditures (Phase 1) and having completed all other obligations pursuant to the option agreement have earned a 51% interest in the Burton Gold Property ("Property"). Under the terms of the earn-in option agreement between Trelawney and Falcon, IAMGOLD may earn an additional 24% interest in the Property by incurring an additional $600,000 in exploration expenditures on the Property on or before February 16, 2014 (Phase 2).

About The Burton Property

The Burton Gold Property is located in the Swayze Greenstone Belt, Northeastern Ontario, approximately 150 kilometres (km) south of Timmins and 180 km north of Sudbury. The Property is well-positioned in a very actively explored district. The Property is approximately 38 kms northwest of the IAMGOLD Cote Gold Deposit which has an indicated resource of 131 million tonnes at an average grade of 0.84 grams per tonne ("g/t") (3.56 million ounces gold) and an inferred resource of 165 million tonnes at an average grade of 0.88 g/t (4.66 million ounces gold)(1). The Property is also located approximately 10 km northwest of the past producing Jerome Gold Mine which produced 56,878 ounces gold from 1941 to 1943 (303,966 tonnes @ 6.72g/t Au)(2).

Historical diamond drill intercepts at the Property include 9.34 g/t Au over an intersection length of 7.75 metres ("m") at the Shaft Zone and 12.47 g/t Au over an intersection length of 3.13 m at the East Zone. The Shaft Zone and the East Zone are interpreted to be hosted by the same stratigraphic and structural zone and are separated by a distance of approximately 450 metres. Diamond drilling completed by Falcon Gold during 2011 included 3.74 g/t Au over an intersection length of 9.96 m (including 10.98 g/t Au over 2.17 m) and 3.25 g/t Au over an intersection length of 10.35 m (including 5.65 g/t Au over 2.85 m) at the Shaft Zone (News Releases of July 27/2011 and September 12/2011).

Phase 1 Exploration Results

Under the terms of the option agreement, Falcon was the operator of the Phase 1 exploration program. Work completed during Phase 1 on the Property included:


-- 55.2 km of grid were cut including 100 m spaced grid lines, base line, and tie lines-- IP survey completed on the 100 m spaced grid lines-- A total of 985 soil samples collected and analyzed-- Review of IP data by a Consulting Geophysicist (IP Specialist)-- Compilation of exploration data integrating historical exploration and geological data
Based on the Phase 1 exploration work and data compilation, drill targets were prioritized and a total of 1,528 metres were completed in 13 diamond drill holes. The objective of the drill program was to test property wide targets leaving the Shaft Zone - East Zone target area for follow-up exploration in future programs. The diamond drilling intercepted numerous disseminated sulphide horizons, structures interpreted from the compilation of exploration data, and contained locally anomalous gold concentrations. However, the diamond drilling did not include intercepts of potentially economic gold mineralization. The Phase 2 exploration program is being planned and subject to review by IAMGOLD should include follow-up on some of the anomalous gold intercepts in Phase 1 diamond drilling and focus on the Shaft Zone - East Zone target area.
About Falcon Gold Corp.
Falcon Gold Corp. is a Canadian mineral exploration company focused on generating, acquiring, and exploring mining opportunities in the Americas. Falcon is focussed on exploring its 100% owned Washington Silver project located in the historic Republic Mining District, northeastern Washington, USA, and is actively evaluating additional exploration opportunities. Falcon's 2012 drill results demonstrate the high grade potential of the Washington Silver project with an intersection of 167 grams per tonne (g/t) Ag over 36.5 metres (m) including a high grade intercept of 511.57 g/t Ag and 0.83 g/t Gold (Au) over 9.14 m. The Company is reviewing its 2013 exploration plans for this project and subject to financing intends to recommence exploration activities in the approaching spring/summer field season.
Sampling and QA/QC
Diamond drill core is logged by qualified geological staff on site at the Burton Gold Property. Upon completion of geological and geotechnical logging, the core for sampling and assaying is transported by Company personnel to the Falcon offices in Sudbury Ontario. The core is cut using a diamond saw. One half of the sample is bagged with a sample identification tag. The remaining half sample is returned to the core box with the corresponding sample tag and is archived, in a secure facility, in Sudbury. Samples are delivered by Company personnel to Agat Laboratories in Sudbury. Upon receipt at Agat Laboratories, the samples are dried, weighed and are crushed to 90% passing 2 mm. A 250 gram riffle split of the crushed sample is pulverized to 85% passing 75 microns. Au concentration is determined on all samples from a 30 gram split of the pulverized sample by Fire Assay with Atomic Absorption finish.
Falcon Gold uses quality assurance and quality control ("QA/QC") procedures that include the analyses and evaluation of Certified Reference Materials and blank samples as well as the routine analysis of duplicate samples.
Qualified Person and NI 43-101 Disclosure
Jamie Lavigne, P.Geo, President and CEO, and Director of Falcon Gold supervised the diamond drilling exploration program at the Burton Property, is responsible for the verification and quality assurance of the Burton property exploration data, and has reviewed and verified the contents of this news release.
(1) - Data from IAMGOLD Corporation news release dated October 4, 2012(2) - Data from Ontario Ministry of Northern Development and Mines, 1988
On Behalf of the Board of Directors
FALCON GOLD CORP.
Jamie Lavigne, P.Geo, President, CEO and Director
This news release may contain forward looking statements including but not limited to comments regarding the timing and content of upcoming work programs, geological interpretations, receipt of property titles, native issues, etc. Forward looking statements address future events and conditions and therefor, involve inherent risks and uncertainties. Actual results may differ materially from those currently anticipated in such statements.
Neither TSX Venture Exchange nor its Regulation Services Provider (as that term is defined in the policies of the TSX Venture Exchange) accepts responsibility for the adequacy or accuracy of this release.


Contacts:
Falcon Gold Corp.
Jamie Lavigne
President, CEO and Director
Sudbury Office: 705-524-3777
jamie.lavigne@falcongold.ca
www.falcongold.ca