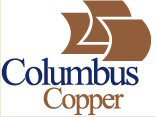 VANCOUVER, BRITISH COLUMBIA -- (Marketwire) -- 03/27/13 -- Columbus Copper Corporation ("Columbus Copper") (TSX VENTURE: CCU) (formerly Empire Mining) is pleased to report that drill-hole KDH-024 from its ongoing diamond drilling program at its 100% owned Karapinar copper-molybdenum project in Turkey, has returned 59.9 metres of 0.55% copper and 0.06 grams per tonne ("g/t") gold from 219.1 metres depth including 35.4 metres from 220.1 metres grading 0.67% copper and 0.09 g/t gold and 9.4 metres from 235.1 metres grading 1.27% copper and 0.14 g/t gold.

First Quantum Minerals Ltd., has been granted an option to earn an initial 51% interest in Karapinar and is funding the work program.

Eight drill-holes have been completed for a total of 2,628.6 metres in the current campaign. The ninth hole, KDH-026 is in progress. Results have been received for the first seven holes and all, except for drill-hole KDH022, returned significant intercepts within porphyry or skarn mineralization, confirming interpretations from the 2011 IP geophysical survey and the 2012 mapping campaign.

In 2011, Columbus Copper completed an IP survey at Karapinar that outlined a chargeability anomaly of 800 metres x 800 metres in the eastern part of the porphyry system where drill-hole KDH018 intersected a 60 metre zone of chalcocite enrichment grading 0.93% copper, 0.11 g/t gold and 0.017% molybdenum from a hole depth of 79.6 to 139.6 metres (see news releases of August 23rd and November 1st, 2011). The current drilling campaign set out to confirm that the IP reflects copper mineralization. The recently reported drill-hole, KDH021, collared to test an IP anomaly 500 metres north-east of drill-hole KDH018, intersected a chalcocite enriched interval of 21 metres grading 1.05% copper between 135.0 and 183.0 metres in endoskarn and drill-hole KDH024 tested another IP anomaly 300 metres south-west of drill-hole KDH021 and intersected 59.9 metres of mineralized skarn breccia. Drill-holes KDH021 and KDH024 demonstrate the presence of and approximately 600 metres x 250 metres coherent zone of secondary copper/skarn mineralization, adjacent to the porphyry stock that corresponds with the IP chargeability anomalies. Maps with collar locations over plans of IP chargeability and ground magnetics are available at the following link:

www.columbuscopper.com/i/nr/2013-03-27-maps.pdf

The current drilling program, developed jointly with First Quantum Minerals Ltd., set out to test the potential of the system much beyond the area of the existing porphyry deposit drilled in previous campaigns. The program therefore requires widely spaced step-out holes intended to test the potential margins and outer boundaries of the mineralized system. This includes holes collared on results from re-interpreted geochemical data and Short-wave Infrared ("SWIR") and Near Infrared ("NIR") spectral analysis performed on drill core samples to investigate alteration trends in the system. This study, therefore, recommends that deeper holes within the system are required in order to identify the potential higher grade resource. A schematic of an idealized alteration model of a porphyry system with the zone believed to be the location of the majority of drilling at Karapinar is available at the following link.