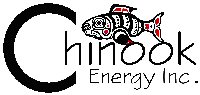 CALGARY, ALBERTA -- (Marketwire) -- 03/27/13 -- Chinook Energy Inc. ("Chinook" or the "Company") (TSX: CKE) today announced its audited year end financial and operational results and provided an operational update.

The Company will file later this morning its audited consolidated financial statements for the years ended December 31, 2012 and 2011 and related management's discussion and analysis ("MD&A") on the SEDAR website (www.sedar.com) and Chinook's website (www.chinookenergyinc.com) Operational and financial highlights for the three months and year ended December 31, 2012 are noted below and should be read in conjunction with the audited consolidated financial statements and related MD&A.

2012 highlighted the strength of Chinook's Tunisian operations and the advantages of exposure to international oil pricing along with a focus on improving the quality of its Canadian assets with a strategic acquisition, development of oil properties, and non-core dispositions.

Q4 2012 Highlights


--  Reduced year end net debt by 46% to $72.4 million, year-over-year.--  Closed a new $115 million Canadian reserve-based revolving credit    facility with a syndicate of banks.--  An international reserve-based credit facility with an upper limit of    US$75 million and initial availability of US$46.5 million closed    subsequent to year end with an international bank.--  Fourth quarter cash flow increased 20% year-over-year to $28.8 million    ($0.13 per share).--  Improved fourth quarter corporate netback by 36% to $27.20/boe compared    to full year average of $20/boe.--  Closed acquisition of Grande Prairie core area property for $30 million.--  Closed $33 million of non-core asset dispositions in the fourth quarter    for a total of $106.3 million in 2012.
2012 Financial and Operating Results
Production in 2012 averaged 12,184 boed, down 16% from 2011. A significant component of the decreased production was the sale of approximately 1,600 boed of production from non-core assets that sourced $106.3 million in proceeds. Cash flow in 2012 was 7% lower at $79 million from $85 million in 2011 despite the effect of a 38% drop in year-over-year Canadian natural gas prices from $3.59/mcf to $2.24/mcf as this effect was mainly offset by the increased Tunisian production volumes sold at a premium Brent oil price (relative to WTI pricing). Dispositions in 2012 were completed at an average valuation of $66,400 per flowing barrel of oil equivalent, which represents above average transaction metrics and further strengthened the balance sheet, allowing the Company to complete a strategic $30 million acquisition in its core Canadian area at Grande Prairie. Capital expenditures in 2012 totaled $80 million (excluding acquisitions) and were funded entirely from cash flow with the balance from proceeds of dispositions. Increased financial strength is evidenced when comparing the Company's year-end net debt of $72 million as a multiple of trailing annual cash flow. The Company has reduced its debt to cash flow ratio by 44% to 0.9 times in 2012 from 1.6 times in 2011 (based on $135 million in 2011 year end net debt). Chinook is improving its financial liquidity with a newly established reserve-based 364-day revolving syndicated Canadian credit facility of $115 million, and on March 15, 2013, Chinook signed a USD$75 million revolving international reserve-based credit facility for a term of five years with an international bank. The initial availability on the international credit facility is USD$46.5 million and is intended to be used to further develop the Company's Tunisian assets. These new credit facilities provide Chinook with ample capacity to
finance
its operations and pursue additional domestic and international opportunities in 2013.