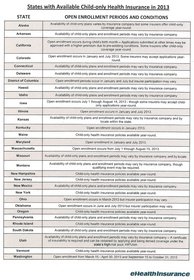 A chart describing the availability of child-only health insurance plans in select states.



MOUNTAIN VIEW, CA -- (Marketwire) -- 03/27/13 -- Today eHealth, Inc. (NASDAQ: EHTH) (eHealthInsurance.com), America's first and largest private online health insurance exchange, released information about the availability of children's health coverage and open enrollment periods for child-only individual health insurance plans in select states.

"Child-only" plans are individual health insurance policies made available to children age 18 and under with no parent or guardian listed on the same policy. The 2010 Patient Protection and Affordable Care Act prevents insurers from declining health insurance applications for children due to pre-existing medical conditions. However, concern that parents could delay purchasing coverage for children until they get sick led some health insurance companies to stop offering child-only plans in a number of states.

In response, certain states and insurance companies have designated open enrollment periods for child-only plans -- specific annual or biannual enrollment windows when parents or guardians can enroll children in their own individual health insurance plans without danger of being declined due to their medical history. In some states, child-only coverage is available year-round.

The summary below represents a snapshot of current rules and processes governing child-only health insurance in select states. This document is not a comprehensive review of every state's plan for compliance with this aspect of the federal health reform law. Please refer to individual state departments of insurance for additional information.



             Availability of Child-only Health Insurance in 2013        STATE                 OPEN ENROLLMENT PERIODS AND CONDITIONS----------------------------------------------------------------------------                       Availability of child-only plans varies by insurance       Alaska          company but some insurers offer child-only coverage                                           year-round.----------------------------------------------------------------------------                     Availability of child-only plans and enrollment periods      Arkansas                    may vary by insurance company.----------------------------------------------------------------------------                       Open enrollment occurs during child's birth month --                      Applications submitted at other times may be approved     California      with a higher premium due to pre-existing conditions or                      if submitted without a qualifying event. Some insurers                              offer child-only coverage year-round.----------------------------------------------------------------------------                      Open enrollment occurs in January and July 2013. Some      Colorado             insurers may accept applications year-round.----------------------------------------------------------------------------                     Availability of child-only plans and enrollment periods     Connecticut                  may vary by insurance company.----------------------------------------------------------------------------                     Availability of child-only plans and enrollment periods      Delaware                    may vary by insurance company.----------------------------------------------------------------------------                      Open enrollment periods occur in January and July butDistrict of Columbia             insurer participation may vary.----------------------------------------------------------------------------                     Availability of child-only plans and enrollment periods       Hawaii                     may vary by insurance company.----------------------------------------------------------------------------                     Availability of child-only plans and enrollment periods        Idaho                     may vary by insurance company.----------------------------------------------------------------------------                      Open enrollment occurs July 1 through August 14, 2013        Iowa              -- though some insurers may accept child-only                                     applications year-round.----------------------------------------------------------------------------      Illinois           Open enrollment occurs in January and July 2013.----------------------------------------------------------------------------                     Availability of child-only plans and enrollment periods       Kansas         may vary by insurance company and by locale within the                                              state.----------------------------------------------------------------------------      Kentucky               Open enrollment occurs in January 2013.----------------------------------------------------------------------------                       Child-only health insurance policies available year-        Maine                                 round.----------------------------------------------------------------------------      Maryland              Open enrollment in January and July 2013.----------------------------------------------------------------------------                      Open enrollment occurs from July 1 through August 15,    Massachusetts                             2013.----------------------------------------------------------------------------                     Availability of child-only plans and enrollment periods      Missouri             may vary by insurance company and by locale.----------------------------------------------------------------------------                     Availability of child-only plans and enrollment periods       Montana        may vary by insurance company, though qualifying event                                         may be required.----------------------------------------------------------------------------                       Child-only health insurance policies available year-    New Hampshire                             round.----------------------------------------------------------------------------                       Child-only health insurance policies available year-     New Jersey                               round.----------------------------------------------------------------------------                     Availability of child-only plans and enrollment periods     New Mexico                   may vary by insurance company.----------------------------------------------------------------------------                       Child-only health insurance policies available year-      New York                                round.----------------------------------------------------------------------------                         Open enrollment occurs in March 2013 but insurer        Ohio                         participation may vary.----------------------------------------------------------------------------                         Open enrollment occurs in June and July 2013 but      Oklahoma                   insurer participation may vary.----------------------------------------------------------------------------                       Child-only health insurance policies available year-       Oregon                                 round.----------------------------------------------------------------------------                     Availability of child-only plans and enrollment periods    Pennsylvania                  may vary by insurance company.----------------------------------------------------------------------------                       Child-only health insurance policies available year-    Rhode Island                              round.----------------------------------------------------------------------------                     Availability of child-only plans and enrollment periods    South Dakota                  may vary by insurance company.----------------------------------------------------------------------------                     Availability of child-only plans and enrollment periods                        may vary by insurance company -- A certificate of        Utah             insurability is required and can be obtained by                       applying and being denied coverage under the state's                                     high-risk pool, HIPUtah.----------------------------------------------------------------------------                       Child-only health insurance policies available year-       Vermont                                round.----------------------------------------------------------------------------                        Open enrollment from March 15 - April 30, 2013 and     Washington                 September 15 to October 31, 2013.----------------------------------------------------------------------------