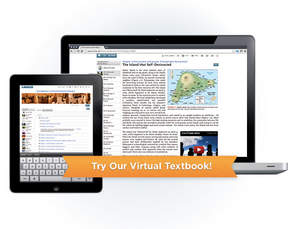 Trunity's Virtual Textbook



NEWBURYPORT, MA -- (Marketwire) -- 03/26/13 -- Trunity Holdings Inc. (OTCQB: TNTY) ("Trunity" or the "Company"), a leading provider of next generation education%2f">eLearning content and solutions, today announced that the Ukraine Government's Open World National Project selected the Trunity platform as the foundation for the country's national educational network.

"Trunity was able to provide Ukraine with not only a top notch learning platform, but also the establishment of the Ukrainian Knowledge Exchange. This vehicle will provide Ukrainian educators with an opportunity to publish and share educational content and research throughout the Ukraine and the rest of the world. This investment further enhances our commitment to provide Ukrainian school students with the tools and infrastructure they need to be successful on the global stage," said Vladyslav Kaskiv, chairman of the State Agency for Investment and Management of National Projects of Ukraine. "We are excited to begin working with them to build the world's best informational and educational network."

The vision of the Ukraine Open World National Project is to provide school students with the best and most comprehensive educational platform in Eastern Europe, enabling them to compete effectively and successfully with other students from across the globe in today's highly-challenging global market. Initially the platform will be rolled out for grade seven in 2013, followed by a phased deployment reaching all 1.5 million school students in grades five through grade nine within two years of the initial deployment.

Key selection criteria for this project included the ability to offer:

•Fully integrated solution including content, learning management and social collaboration •Cloud-based architecture to provide easy deployment and scalability •Integrated publishing platform and knowledge exchange with built-in royalty tracking •Device agnostic supporting most common computer operating systems •Advanced crowdsourcing with peer review control for cost efficiency and quality

During the review of other solutions, the Ukraine Open World National Project found the Trunity suite of products to be the best overall solution to meet their needs, with the Trunity Knowledge Exchange providing a key capability unmatched by other vendors: students and schools have the ability to access hundreds of thousands of expert-created articles and content, including video and other types of multimedia. Moreover, Trunity's built-in social collaboration capability enables authorized students, teachers and parents to meet and interact using familiar social media concepts and tools, while Trunity's cloud-based implementation enables users to access the course material from anywhere at any time via browser-based devices such as a computers, iPads, tablets or smartphones.