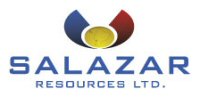 VANCOUVER, BRITISH COLUMBIA -- (Marketwire) -- 03/26/13 -- Salazar Resources Ltd. (TSX VENTURE: SRL)(FRANKFURT: CCG) (the "Company") is pleased to announce an investment and participation agreement (the "Agreement") with Urion Mining International BV, a wholly owned subsidiary of Trafigura Beheer B.V. (together referred to as "Urion"), a privately held international commodity trading and logistics company. Urion will provide funding to assist the Company with the advancing of the El Domo Property at the Curipamba Project to the production stage.

The Agreement provides for a series of investments with the first being a private placement of 2,500,000 units of the Company ("Units") at a price of $0.40 per Unit for total gross proceeds of $1,000,000. Each Unit consists of one common share of the Company and one-half of a share purchase warrant. Each full warrant entitles the holder to purchase an additional common share of the Company for a period of 18 months at a price of $0.50 per share. The net proceeds from this financing are to be used for working capital purposes. This transaction has been accepted by the TSX Venture Exchange and the Company has issued 2,500,000 shares and 1,250,000 warrants. The shares and warrants issued and the shares which underlie the warrants have a hold period expiring July 23, 2013.

Under the Agreement Urion undertakes to provide additional financing of $1,000,000 through a further private placement of common shares. This additional private placement will occur only when an engineering firm has been engaged to prepare a Preliminary Economic Assessment ("PEA") on the El Domo property at the Curipamba Project. This financing will be priced at prevailing market price once all conditions precedent are met. The net proceeds from this subsequent financing are to be used solely to fund tenure holding costs, costs of the engineering study and basic operating expenses in Ecuador incurred by the Company's wholly owned subsidiary, Curimining S.A. ("Curimining"). The sole asset of Curimining is the Curipamba Project.

On receipt of the engineering study, which the Company anticipates in approximately eight months, Urion may elect to provide additional financing through an investment in the Company or in its wholly owned Ecuadorian subsidiary, Curimining. In return for additional financing, beyond the $2 million referred to in this news release, on terms and conditions to be determined, Urion can earn a maximum 35% interest in either the Company or Curimining. Under the Agreement Urion is committed to provide financing for up to 50% of the total project costs to bring El Domo into production. Urion also undertakes to assist the Company in obtaining the balance of the funding required to bring El Domo into production. The Agreement grants Urion off take rights to purchase all production from future operations.

The Company will have responsibility for all administrative activities related to obtaining all the necessary permits from the Ecuadorian State in order to advance the project to the exploitation phase.