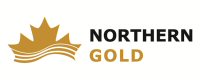 TORONTO, ONTARIO -- (Marketwire) -- 03/26/13 -- NORTHERN GOLD MINING INC. (TSX VENTURE: NGM) ("Northern Gold" or the "Company") is pleased to announce results from the first 13 diamond drill holes from its surface diamond drilling program on its wholly-owned Jonpol Deposit comprising a part of the Golden Bear Project, 100 km east of Timmins, Ontario. The 13 drill holes totaled 3,616.5 metres.

Drill assay highlights for the drill holes include:


--  23.50 g/t Au over 4.1 m  (237.9 to 242.0m) JP-12-04--  7.25 g/t Au over 3.0 m (63.0 to 66.0m) JP-13-11--  5.99 g/t Au over 3.5 m (163.5 to 167.0m) JP-13-23--  5.67 g/t Au over 8.0 m (68.0 to 76.0m) JPGT-01
Greg Gibson, President and CEO of Northern Gold, comments: "These results represent Northern Gold's first drilling campaign at the Jonpol Deposit. Infill holes confirm the continuity and tenor of the known resource area while the successful step-out holes provide a glimpse of the potential for resource expansion between and below known mineralized zones."
Table 1 - Jonpol Assay Results (i) - These results are significant drill assays from 13 drill holes on the Jonpol Deposit. JP series drill holes are either infill into or step out from the known Jonpol Deposit Resources while GT series drill holes are geotechnical holes designed to test crown pillar stability.
----------------------------------------------------------------------------                                  From    Inc     To  Interval Au g/t Au g/tHole              Zone  Section    (m)    (m)    (m)       (m) Un-Cut    Cut----------------------------------------------------------------------------JP-12-01      Footwall   26+50W  306.0         309.8       3.8   3.31----------------------------------------------------------------------------JP-12-02           NSV   26+25W----------------------------------------------------------------------------JP-12-04       JD Zone   26+00W  215.1         219.0       3.9   3.17                               ---------------------------------------------                                 237.9         242.0       4.1  23.49  12.24                               ---------------------------------------------                                        240.7  242.0       1.3  67.60----------------------------------------------------------------------------JP-13-05       JD Zone   27+00W  120.0         120.7       0.7   2.79----------------------------------------------------------------------------JP-13-06       JD Zone   27+50W  207.0         210.0       3.0   5.94----------------------------------------------------------------------------JP-13-10       JD Zone   27+50W  317.1         319.0       1.9   3.54----------------------------------------------------------------------------JP-13-11       RP Zone   21+25W   63.0          66.0       3.0   7.25----------------------------------------------------------------------------JP-13-22       RP Zone   18+25W  194.0         195.0       1.0   4.24----------------------------------------------------------------------------JP-13-23       RP Zone   18+75W  163.5         167.0       3.5   5.99                               ---------------------------------------------                                        163.5  164.5       1.0   9.50----------------------------------------------------------------------------JP-13-24       RP Zone   18+75W  320.0         320.8       0.8   1.77----------------------------------------------------------------------------JDGT-01        JP Zone   26+50W   39.0          40.0       1.0   2.43----------------------------------------------------------------------------JPGT-01        JP Zone   23+35W   33.0          34.6       1.6   4.28                               ---------------------------------------------                                  68.0          76.0       8.0   5.67                               ---------------------------------------------                                         72.0   76.0       4.0   8.41                               ---------------------------------------------                                  91.0          94.2       3.2   3.01----------------------------------------------------------------------------JPGT-02a       JP Zone   22+00W   91.0          92.0       1.0   3.65                               ---------------------------------------------                                 116.0         120.0       4.0   1.64                               ---------------------------------------------                                 142.0         152.0      10.0   1.42                               ---------------------------------------------                                        151.0  152.0       1.0   3.75----------------------------------------------------------------------------