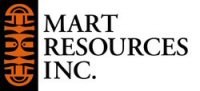 CALGARY, ALBERTA -- (Marketwire) -- 03/26/13 -- Mart Resources, Inc. (TSX VENTURE: MMT) ("Mart" or the "Company") is pleased to announce the arrangement of a new loan facility, and with its co-venturers, Midwestern Oil and Gas Company Plc. (Operator of the Umusadege field) and SunTrust Oil Company Limited provide the following update on Umusadege field operations.

Arrangement of US $100 million Secured Term Loan Facility

Mart, through its wholly-owned Nigerian subsidiary, has arranged a US $100 million secured term loan facility with Guaranty Trust Bank PLC with the intent to finance capital expenditures required for further field development activities and Mart's ongoing working capital requirements.

The secured loan facility has a term of five years and bears interest at 90 days LIBOR plus 4% (floor of 8.25%).

Wade Cherwayko, Chairman & CEO of Mart Resources stated: "Mart is very pleased to have made this arrangement with Guaranty Trust Bank PLC and anticipates that the additional flexibility the facility can provide will enable Mart to move ahead quickly with development and potential growth plans."

March 2013 Production Update

Umusadege field production continues to be shut down due to maintenance being performed on the export pipeline by the pipeline operator. The pipeline operator has advised that the maintenance operations are nearing completion, but no exact date can be given as to when repairs will be completed and production can re-commence. Mart will provide an update regarding this situation as it progresses.

Common share dividend

Following previous announcement, Mart is pleased to confirm that a quarterly dividend of $0.05 per common share will be paid on April 9, 2013 to shareholders of record at the close of business on March 22, 2013. The ex-dividend date was March 20, 2013.

Additional information regarding Mart is available on the Company's website at www.martresources.com and under the Company's profile on SEDAR at www.sedar.com.

INVESTOR RELATIONS:

Investors are also welcome to contact the following investor relations specialists for all corporate updates and investor inquiries:


FronTier Consulting Ltd.Mart toll free # 1-888-875-7485Email: inquiries@martresources.com
Except where expressly stated otherwise, all production figures set out in this press release, including bopd, reflect gross Umusadege field production rather than production attributable to Mart. Mart's share of total gross production before taxes and royalties from the Umusadege field fluctuates between 82.5% (before capital cost recovery) and 50% (after capital cost recovery).
Forward-Looking Statements and Risks
Certain statements contained in this press release constitute "forward-looking statements" as such term is used in applicable Canadian and US securities laws. Any statements that express or involve discussions with respect to predictions, expectations, beliefs, plans, projections, objectives, assumptions or future events or are not statements of historical fact and should be viewed as "forward-looking statements". These statements relate to analyses and other information that are based upon forecasts of future results, estimates of amounts not yet determinable and assumptions of management. Such forward looking statements involve known and unknown risks, uncertainties and other factors which may cause the actual results, performance or achievements of the Company to be materially different from any future results, performance or achievements expressed or implied by such forward-looking statements.
There can be no assurance that such forward-looking statements will prove to be accurate as actual results and future events could vary or differ materially from those anticipated in such statements. Accordingly, readers should no place undue reliance on forward-looking statements contained in this news release. In particular, there is no assurance when pipeline repairs will be completed and production can re-commence. The credit facility referenced herein is subject to finalization of certain credit agreements. There is no assurance that such agreements will be finalized or that the credit facility referenced herein will be available in the amounts or at the times requested by the corporation or at all. The forward-looking statements contained herein are expressly qualified by this cautionary statement.
Forward-looking statements are made based on management's beliefs, estimates and opinions on the date the statements are made and the Company undertakes no obligation to update forward-looking statements and if these beliefs, estimates and opinions or other circumstances should change, except as required by applicable law.
NEITHER THE TSX VENTURE EXCHANGE NOR ITS REGULATION SERVICES PROVIDER (AS THAT TERM IS DEFINED IN THE POLICIES OF THE TSX VENTURE EXCHANGE) ACCEPTS RESPONSIBILITY FOR THE ADEQUACY OR ACCURACY OF THE RELEASE.


Contacts:
Mart Resources, Inc.
Wade Cherwayko
London, England office # +44 207 351 7937
Wade@martresources.com

Mart Resources, Inc.
Dmitri Tsvetkov
London, England office # +44 207 351 7937
dmitri.tsvetkov@martresources.com

Mart Resources, Inc.
Investor Relations
Toll Free 1-888-875-7485
www.martresources.com