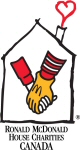 TORONTO, ONTARIO -- (Marketwire) -- 03/26/13 -- Editors Note: There are 3 photos and 1 video associated with this press release

With 70 per cent of Canadians living outside of a city with a children's hospital(1), the need for families to travel to receive treatment for their sick child is more prevalent than ever before and the demand for Ronald McDonald Houses (RMH) has never been greater. With the launch of RMHC Canada's new Family Moments campaign, the Charity is hoping to engage Canadians in an important conversation about the critical role family plays in the care and healing of a sick child.

Ronald McDonald Houses provide a home away from home for families whose children are being treated at a nearby hospital and are pioneers in what today is known as family-centred care - the widely recognized, and now validated, family together approach to healing. More than thirty years later, they serve 10,000 families a year across Canada through a network of Houses and in-hospital Ronald McDonald Family Rooms. This number is expected to double by 2014 to 20,000 families, or approximately two-thirds of Canadian families with critically sick or injured children.

"Last year, we conducted research to better understand what was driving the remarkable growth and demand at our Houses. What we learned was both inspiring and daunting," says Cathy Loblaw, President and Chief Executive Officer, Ronald McDonald House Charities Canada. "The good news is that thanks to medical advances, healing rates for children have never been higher. However, it is taking more treatments, over longer periods of time - resulting in unprecedented demand for our Houses that continues to grow."

The new Family Moments campaign gives Canadians a window into the world of families staying at Ronald McDonald Houses by depicting real, slice of life moments that happen every day and which bring a world of normal to families in situations that are anything but.

Inspired by real-life family stories, filmed in an actual Ronald McDonald House® (Hamilton) and featuring families that have stayed there, the creation of the campaign was an intensely personal experience for all involved. It was the personal experience of Drew Graham, a father who stayed at the Ronald McDonald House in Halifax that crystalized the Family Moments creative concept by providing a glimpse into the experience of all RMH families.

Families travelling to care for their sick child face overwhelming and often insurmountable financial challenges to cover accommodation, travel, child care and mounting medical expenses often without the support of work. Ninety-four per cent of mothers and seventy per cent of fathers reported a work loss following their child's cancer diagnosis amounting to a considerable cost for families.(2)

"I thought we were broke," states Graham in his letter. "But every family in the house had it tough. Some had kids who had to stay home, other traveled 8 to 10 hours every day or had jobs that only allowed unpaid leave or forced them to stay at work or quit. I hope you are never faced with the choice of leaving your dying child, or losing the ability to support your family."