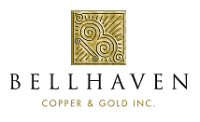 DENVER, COLORADO -- (Marketwire) -- 03/26/13 -- Bellhaven Copper & Gold Inc. (TSX VENTURE: BHV) ("Bellhaven" or the "Company") reports that it has entered into a head-of-terms option agreement (the "Agreement") with a subsidiary of AngloGold Ashanti Corporation, AngloGold Ashanti Colombia S.A. ("AGAC"), to acquire up to 100% interest in the 1,400-hectare La Garrucha mineral concession (the "Property"). The Property is immediately adjacent to the Company's 1,800-hectare La Mina Project (See Figures 1 and 2). Under the terms of the Agreement, Bellhaven will invest US $8.5 million over a three-year period, including US $1.0 million in the first year, and define a NI 43-101 compliant resource in order to earn its interest.

After the earn-in period, should the newly discovered mineral resource be less than 3.0 million ounces of gold or gold-equivalent, Bellhaven will have earned 100% interest in the Property. In case the new resource exceeds 3.0 million ounces of gold or gold-equivalent, AGAC will have a one-time option to back-in to 51% interest in the La Garrucha concession and form a joint-venture. In order to exercise this option, AGAC must elect to pay Bellhaven US $17 million in cash, which is two times the amount expended by Bellhaven during the earn-in period, within 60 days of receiving confirmation of the earn-in and a compliant mineral resource that meets the size criterion. If AGAC backs in to the La Garrucha Project, it can earn an additional 24% equity (for a total of 75% ownership) by fully funding the preparation of a NI 43-101 compliant pre-feasibility study. If the back-in conditions are not met or AGAC elects not to exercise its one-time back-in right, it will retain no further interest in the Property except for a 2% NSR royalty on future gold production and a 1% NSR royalty on future copper production (Bellhaven has a right to purchase half of these royalties).

The La Garrucha concession adjoins Bellhaven's La Mina Project on the east and north sides (See Figures 1 and 2). Bellhaven has reported numerous significant drill intercepts of porphyry-hosted gold and copper mineralization near the property boundary with AGAC (See Figure 3 and Company news releases dated Feb. 29, 2012 and Feb. 28, 2013). For maps showing the location of the Property, as well as relevant geologic and geophysical maps of the area please follow this link: http://file.marketwire.com/release/bhv326_F1-3.pdf.

Patrick Highsmith, Bellhaven's CEO, commented on the impact of the acquisition:

"We are delighted to acquire the rights to the La Garrucha concession from AngloGold Ashanti. This deal is a game-changer for Bellhaven because it consolidates much of the district, almost doubling our land position, and gives us full control of the most significant new discovery in the area. While we have only tested the western edge of the Garrucha anomaly, we have confirmed the presence of a significant mineralized system, the core of which comes to surface on this new concession. Several of our drill holes bottomed in strong mineralization and were terminated only because we approached the concession boundary.