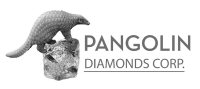 TORONTO, ONTARIO -- (Marketwire) -- 03/25/13 -- Pangolin Diamonds Corp. (TSX VENTURE: PAN) (the "Company" or "Pangolin") is pleased to update shareholders on the Company's 2013 financing and kimberlite diamond exploration activities at the Company's 100% owned Tsabong North, Jwaneng South, Malatswae and Mmadinare Diamond projects (the "Projects") in Botswana, Africa.

Exploration activities 2008 to 2012

Prior to the reverse takeover transaction (the "Transaction") announced on February 21, 2012 (see Key Gold Holding Inc. (TSX VENTURE: KGH) news release), Pangolin spent approximately $1 million to better delineate potential kimberlite targets. The Company completed airborne magnetics, detailed prospecting, soil sampling, pitting, trace element geochemistry and heavy mineral sample processing on all of its Projects. Through this process, more than 80 priority kimberlite drill targets have been identified and prioritized for future drilling; of these, over 50 are situated in the Tsabong North Project.

2013 financing completed

Pangolin successfully completed a financing that raised $2.171 million during the Transaction process. These funds are being used for the Company's 2013 exploration activities.

Current and planned exploration activities in 2013

The recently raised funds have been allocated to the diamond drilling program, detailed ground magnetics and gravity surveys, and detailed soil sampling of the priority kimberlite targets. Diamond drilling has commenced at the Tsabong North Project. The Company has acquired two diamond drill rigs and a fully portable 1 tonne per hour Dense Media Separation Plant (or "DMS Plant") capable of preparing samples and making diamond concentrates. Pangolin's management and team leaders have over 90 years of combined diamond exploration experience in Southern Africa.

Pangolin's Botswana diamond projects

Pangolin holds 11 Prospecting Licences in Botswana covering 5,307 km2. The Project Areas are all 100% owned and are situated in multiple locations including Tsabong North, Jwaneng South, Malatswae, and Mmadinare.

Link to map of Botswana and Pangolin's Project locations : http://www.pangolindiamondscorp.com/pdfs/PDC-Property-Map-Nov-2012.pdf

Tsabong North Project

The Tsabong North Project, located approximately 100 km north of the town of Tsabong in southwestern Botswana, is 1,545 km2 in size. It is comprised of anomalous concentrations of kimberlite indicators and has large geo-botanical features. Pangolin has already identified more than 50 drill-ready aeromagnetic targets in the Project area, several of which have surface areas exceeding 20 hectares. Exploration activities in the area are guided in part by the recommendations of a National Instrument 43-101 Technical Report prepared for the Project.

The Project is situated on the Archaean Kaapvaal Craton, immediately north of the diamondiferous Tsabong kimberlite field that hosts the M-1 pipe, the largest known diamondiferous kimberlite pipe in the world (www.firestonediamonds.com). Pangolin's Chairman and its single largest shareholder, Dr. Leon Daniels, was part of the Falconbridge Team that developed the geological model of the 180 hectare M-1 pipe that was discovered in 1980. He was also directly involved in the discovery of several new kimberlites in the Tsabong kimberlite field.