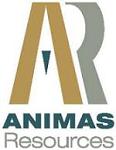 VANCOUVER, BRITISH COLUMBIA -- (Marketwire) -- 03/25/13 -- Animas Resources Ltd. (TSX VENTURE: ANI) ("Animas" or the "Company") announces that it has updated some of its technical disclosure on its website and retracted certain documents.

As a result of a review by the British Columbia Securities Commission, the Company is issuing the following news release to clarify its disclosure.

In the Company's presentation and corporate profile presented on the Company's website, the Company inappropriately disclosed "minable oxide resources" and "pitable oxide gold resources" at its Santa Gertrudis property in Sonora, Mexico, without using the applicable resource categories (measured, indicated and inferred). This disclosure violated National Instrument 43-101 Standards of Disclosure for Mineral Properties ("NI 43-101"), Part 2.2(a) that requires "An issuer must not disclose any information about a mineral resource or mineral reserves unless the disclosure uses only the applicable mineral resource and mineral reserve categories set out in sections 1.2 and 1.3". The Company is retracting such disclosure and has revised its corporate profile and presentation to clearly state the Company has an inferred resource estimate of 557,000 ounces of gold at its Santa Gertrudis project, with a cut-off grade of 0.30 ppm Au. For further details regarding the Company's inferred resource please refer to the Company's press release dated November 17, 2010.

The definition of "Inferred Mineral Resource" is that part of a mineral resource for which tonnage, grade and mineral content can be estimated with a low level of confidence. It is inferred from geological evidence and assumed but not verified geological/or grade continuity. It is based on information gathered through appropriate techniques from location such as outcrops, trenches, pits, workings and drill holes which may be of limited or uncertain quality and reliability.

The Company is also retracting the disclosure about its Desierto property on its corporate profile and the Company's website regarding the "10+ million ounces of gold" as it violated NI43-101 section 2.3(1)(a) that states "An issuer must not disclose the quantity, grade, or metal or mineral content of a deposit that has not been categorized as an inferred mineral resource, an indicated mineral resource, a measured mineral resource, a probable mineral reserve, or a proven mineral reserve". This statement has been removed from the Company's corporate profile and its website.

Furthermore, the Company has removed the Santa Gertrudis map from its presentation and corporate profile which set out historical estimates that were not in compliance with section 2.4 of NI 43-101 as it did not provide the grade or quality and the quantity for each category of the mineral resources and mineral reserves disclosed.

Regarding the Company's inferred resource estimate, the Company has now included additional disclosure in its presentation and its corporate profile related to the effective date of such estimate, the key assumptions, parameters, methods used and the prominent statement that mineral resources that are not mineral reserves do not have demonstrated economic viability.