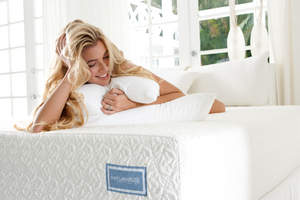 American Pure LatexBLISS(TM) celebrated first store opening in Hong Kong, delivering 'Better Sleep by Relieving Tension and Relaxing Muscles'


HONG KONG -- (Marketwire) -- 03/23/13 -- Good sleep is vital to contribute to overall health and well being. In view of rising global concern of better sleep upon life stress and tension, Pure LatexBLISS™, one of the fastest growing mattress brands in the world, celebrated its official launch in Asia with a grand opening celebration in Hong Kong on Saturday, March 23rd. It brings in better sleeping tips about relieving tension and relaxing muscles by latex bedding products.

The company partnered with Sofamark, one of Hong Kong's leading furniture stores, to introduce its mattress, pillow and topper products in Sofamark showrooms located in Sheung Wan, Taikoo and Kwun Tong. Pure LatexBLISS™ will be one of the first mattress brands featured in Sofamark's new mattress galleries, "Mattress World."

The "Better Sleep by Relieving Tension and Relaxing Muscles" launch event and press conference was successfully held at The LANGHAM in Hong Kong. During the event, Dr. Benny Tong, a veteran chiropractor, gave a fruitful health talk about better sleeping tips. While sleeping, we have three times more tension on muscles than bones. One of the most unique things Pure LatexBLISS™ innovates is that its mattress is ideal for both the sleepers' muscles and spine but also providing a lifting effect to the body.

This innovative concept allows Pure LatexBLISS™ to be recognized as an alternative to memory foam sleep products. With history of over 35 years, Latex International is the largest and finest Talalay Latex bedding goods producer in the world. Making its market debut at the Las Vegas World Market Home Furnishings Expo in September 2009, Pure LatexBLISS™ has successfully built over 1,000 retail locations in 17 countries throughout the world.

"Pure LatexBLISS™ has fast become one of the most recognized unique latex brands. With Chinese demand for American-made luxury products on the rise, this is the perfect time to expand our international presence once again," said Pure LatexBLISS™ President Kurt Ling. "Recognizing that Pure LatexBLISS™ is regarded as a high-quality mattress brand internationally, Sofamark invited us to be one of the featured mattress companies at its Mattress World. We couldn't be more excited to use this opportunity to establish our presence in the Asian market."

All Pure LatexBLISS™ products exported to Asia will still be manufactured in the United States at the company's Connecticut facility. The company will also introduce a new exclusive, ultra-unique collection customized specifically for the Asian consumer, with new mattress profiles including 13-inch, 14-inch and 15-inch all-latex beds. The pricing for the mattresses ranges from $2,500 to $8,000 US dollars (approximately HK$19,500 to HK$62,400). Introducing the innovative concept of how relaxing muscles results in a better night's sleep, Pure LatexBLISS™ is to be recognized as an alternative to memory foam sleep products.