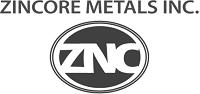 VANCOUVER, BRITISH COLUMBIA -- (Marketwire) -- 03/21/13 -- Zincore Metals Inc. (TSX: ZNC)(LMA: ZNC) ("Zincore" or the "Company") is pleased to report assay results from Holes DOL-14, DOL-15, DOL-16 and DOL-17, the final holes of the first drill program under a joint-venture with First Quantum Minerals ("First Quantum") formed to explore the Company's 100%-owned, Dolores copper-molybdenum porphyry property located in the prolific Yauri-Andahuaylas copper district in southern Peru.

Highlights from these results include: 72.35 metres of 0.26% Cu Eq(i), including 21.3 metres of 0.44% Cu Eq(i) in Hole DOL-17 and 298.6 metres of 0.16% Cu Eq(i), including 20.0 metres of 0.40% Cu Eq(i) in Hole DOL-15. For a list of latest drill results please see Table One below.

To view a map of Dolores exploration activity, please click here.

(i) Copper Equivalent Total calculated using TD Securities long term prices of US$3.00/lb. copper and US$12.00/lb. molybdenum and do not include any potential gold or silver credits. Metallurgical recoveries and net smelter returns are assumed to be 100%.

Zincore CEO and President, Jorge Benavides, commented, "These results confirm the existence of a very large porphyry system at Dolores encompassing at least 3.5 kilometres north to south and 1.5 kilometres east to west. Within this area we have intersected six different phases of porphyry intrusion; one is pre-mineralization, three are mineralized and two are post-mineralization. The multiphase nature of porphyry intrusion and the widespread occurrence of copper-molybdenum mineralization within this large area attest to the mineral endowment of the system."

Mr. Benavides concluded, "The work completed to date at Dolores is preliminary, but the drill and trench results, combined with extensive aerial and ground geophysical work, provide us with an important body of information that requires re-interpretation to plan the next phase of work at Dolores, which will begin after the end of the rainy season in May. It is our intention to focus our future exploration efforts in finding a higher grade mineralized body within the large Dolores system."

A summary of these latest drill results includes:

Hole DOL-17 was drilled to a depth of 533.9 meters, 1.5 kilometres north of hole DOL-02 and approximately 500 meters higher in elevation, at the contact between the tonalite porphyry and sediments, coincident with a surface copper-molybdenum soil anomaly. Over the first 280 meters, DOL-17 cut sediments and thin intrusive dikes, afterwards it cut quartz monzonite porphyry to the end of the drill hole with predominant chlorite-clay alteration. The results from DOL-17 include 72.4 metres of 0.26% Cu Eq(i), with 21.3 metres of 0.44% Cu Eq(i), consisting of disseminated chalcopyrite and quartz and chalcopyrite veinlets. These results open up an area of interest for exploration, as the 1.5 kilometres separating it from DOL-02, which intersected 297.6 metres of 0.24% Cu Eq(i), including 72.6 metres of 0.30% Cu Eq(i) and 109.0 metres of 0.28% Cu Eq(i)(2), remains unexplored by drilling to date.