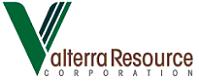 VANCOUVER, BRITISH COLUMBIA -- (Marketwire) -- 03/21/13 -- Valterra Resource Corporation (TSX VENTURE: VQA)(FRANKFURT: 3VA) reports that preliminary metallurgical results from continued testing on the +20kg Discovery Zone trench sample from the Bobcaygeon Graphite Project in southern Ontario has produced medium, coarse and jumbo flake graphite fractions assaying greater than 94% C(t) by LOI and a high-purity fine flake graphite fraction, that with additional leaching, returned 99.14% C by double LOI in concentrate. These preliminary flotation and leaching test results demonstrate the potential to produce marketable, high-margin graphite products utilizing industry-standard processing techniques.

A combination of crushing, grinding, polishing, and flotation stages were used to separate the products into various size fractions of high purity. Two-stage leach testing was conducted on the fine size fraction (-150 mesh) with the goal of upgrading this material to a purer concentrate.

Highlights from the metallurgical testing conducted at SGS Lakefield facilities include:


--  55.9% of the concentrate separates into the fine flake category (-150    mesh) grading 91.05% C(t). Leach testing was conducted on this size    fraction upgrading the product to a 99.14% C (Double LOI) and 100% C(t)    by Leco.--  31.7% of the concentrate separates into the large and jumbo flake    categories (+80 mesh or greater than 0.178mm) grading 94.9% C by LOI.    This includes 14.6% of the concentrate at a +48 mesh (jumbo flake)    grading 94.7% C by LOI.--  12.4% of the concentrate separates into the medium flake category (-80    to +150 mesh) grading 96.3% C by LOI.--  Total overall concentrate recoveries of 93.3% at a combined concentrate    grade of 93.1% C by LOI.
Processing of the sample continues to return a high percentage of medium and coarser flake concentrates but more significantly identified a fine flake concentrate with the potential to produce an ultra-pure graphite suitable for the synthetic and graphene markets.
The initial head grade of the sample was 34.6% C(g) (see NR-11-12), which is consistent with field sampling of the graphite lens exposed in the drill-ready Discovery Zone trench. Further processing of the fine flake graphite size fraction will be done in order to determine a more precise %C(g) value toward a detailed concentrate analyses pending completion of the work by SGS.
Early results from the project are very encouraging and Valterra is planning an aggressive exploration program including the evaluation of near surface geophysical targets and drilling several shallow "scout" core holes in the Discovery Zone trench area. This work is a prelude to a more extensive drill program which will systematically test an 800m x 400m open-ended, near surface IP chargeability anomaly in the area of the initial discovery, and geophysical and geological evaluation of other targets on this large +160 sq. km. property.
Recent metallurgical reports, ground-geophysical data, updated corporate presentations and photographs are available on Valterra's website at
www.valterraresource.com
.