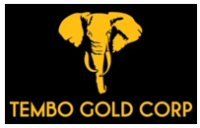 VANCOUVER, BRITISH COLUMBIA -- (Marketwire) -- 03/21/13 -- Tembo Gold Corp. (TSX VENTURE: TEM)(OTCQX: TBGPF)(FRANKFURT: T23) ("Tembo" or "the Company") is pleased to report additional results from the 2012 drill program on the Tembo Property in the Lake Victoria goldfield of Tanzania. These additional shallow reverse circulation (RC) holes from the Nyakagwe Village target were drilled in the phase 1 drilling program on the Tembo property and support the results previously reported from this target area.

Highlights of the latest drill results include:


--  TRC0552 : 8.42g/t gold over 3.00m from 86m--  TRC0562 : 4.61g/t gold over 5.00m from 82m
David Scott President & CEO stated, "The mineralization at the Nyakagwe Village target was only recently discovered by local artisanal miners in the past 36 months beneath transported overburden extensively used as agricultural lands immediately adjacent to the village. Our initial drill results at the Nyakagwe Village target returned multiple high-grade zones of mineralization such as diamond drill hole TDD0107 which (as previously reported) returned 16.58 g/t gold over 3.55m from 44m and 27.88 g/t gold over 3m from 66m). RC drilling of potential extensions to this mineralization along strike of the high grade TDD0107 diamond drill hole and elsewhere within the target area, has intersected mineralized structures correlated with mineralization in TDD0107 at least 200m to the east, and indicates that there are other sub-parallel mineralized structures. Follow-up drilling of the extensions will be required during a later phase of drilling."
The Nyakagwe Village Target
The Nyakagwe Village target is located at the western end of the broad, semi-arcuate belt of active artisanal workings (up to 1000m wide) stretching eastwards through the Mgusu target to the Nyakagwe East target area (a distance of some 1,500 m). The main artisanal workings at Nyakagwe Village comprise a pit with dimensions of some 100 m x 100 m and 35 m deep within an area containing numerous vertical shafts over a rectangular area some 200 m by 100 m. Artisanal shafts located on the southern edge of the pit extend to depths in excess of 40 m below surface. Underground workings reportedly extend over a strike length of 40m, exploiting a quartz vein up to 3m thick, striking WNW and dipping at approximately 40 degrees to the south.
Prior to 2011 this mineralization was unknown despite being within metres of the local village, a result of the ubiquitous transported cover draped over the Tembo project area to depths in excess of 4-10m. This fact strongly supports the conclusion that there are potentially many high-grade targets yet to be discovered beneath this cover along the numerous magnetic lineaments that locally coincide with artisanal workings but extend well beyond these and have sub-parallel counterparts with no workings.
Higher-grade samples from the Nyakagwe Village workings exhibit very fine grained visible gold associated with vein quartz. The high grades intersected in drill holes are associated with quartz veining and sulphides (predominantly pyrite) within meta-basalts. Further diamond and RC drilling is planned to follow up the high-grade intersections achieved to date and to define the structural controls on the mineralisation and determine the lateral and depth extent of the mineralization.