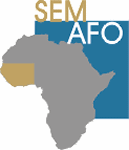 MONTREAL, QUEBEC -- (Marketwire) -- 03/21/13 -- SEMAFO (TSX: SMF)(OMX: SMF) today reported its financial and operational results for the fourth quarter and year ended December 31, 2012. All amounts are in US dollars unless otherwise stated.

2012 - The Year in Review


--  Gold production of 236,100 ounces--  Gold sales of $388.5 million, a 2% decrease compared to 2011--  Operating income of $34.6 million compared to $154.2 million in 2011--  Net loss attributable to equity shareholders of $6.6 million or $(0.02)    per share compared to net income attributable to equity shareholders of    $111.8 million or $0.41 per share in 2011--  Cash flow from operating activities(1) of $155.4 million or $0.57 per    share--  Discovery of the high-grade Siou Sector at Mana, with one-million ounces    of initial in-pit inferred resources at an average grade of 4.62 g/t Au--  Decision to move from an underground mining project to an improved    overall economic super pit scenario resulted in a non-recurring loss of    $17.0 million--  Non-cash impairment charge of $60.0 million on the Samira Hill Mine--  Sale of current investment resulted in a non-recurring loss of $24.3    million--  Declaration of C$0.04 per share dividends to equity shareholders--  Completed 60-kilometer water pipeline to accommodate Mana processing    plant at a cost of $5.8 million less than the originally budgeted $30.2    million--  Record throughput at Mana following the commissioning of Phase IV of the    plant expansion--  SEMAFO's Board of Directors appointed Benoit Desormeaux, formerly    Executive Vice-President and Chief Operating Officer to the position of    President and Chief Executive Officer of the Corporation
Fourth Quarter Review
--  Gold production of 62,400 ounces, a decrease of 4% compared to the same    period in 2011--  Gold sales of $110.3 million, a 3% decrease compared to the same period    in 2011--  Non-cash impairment charge of $60.0 million on the Samira Hill Mine--  Net loss of $25.2 million compared to net income of $33.3 million for    the same period in 2011--  Cash flow from operating activities(1) of $48.6 million or $0.18 per    share compared to $54.3 million or $0.20 per share for the same period    in 2011
(1) Cash flow from operating activities excludes changes in non-cash working capital items.
A Word from the CEO
For SEMAFO, 2012 was a year of transition on many levels. Although disappointing in terms of shareholder value, it nevertheless gave rise to numerous positive aspects with regard to our core business, from both strategic and operational perspectives. We achieved production and cost guidance for a fifth consecutive year. Our production totalled 236,100 gold ounces, just slightly below our 2011 results. Our annual revenues from gold sales posted only a 2% decrease from 2011 to stand at $388.5 million.
The highlight of the year from our standpoint was the discovery of the new high-grade Siou Sector at Mana. This vastly prospective area located approximately 15 kilometers east of our processing plant holds one million ounces of initial in-pit inferred resources at an average 4.62 g/t Au and a gold recovery rate of over 95%. Based on results to date, the Siou Sector where ongoing exploration work is being carried out has already become SEMAFO's most important find ever.