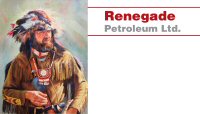 CALGARY, ALBERTA -- (Marketwire) -- 03/21/13 -- Renegade Petroleum Ltd. ("Renegade" or the "Company") (TSX VENTURE: RPL) is pleased to announce it has filed on SEDAR its audited annual consolidated financial statements ("Financial Statements") and related management's discussion and analysis ("MD&A") for the three months and year ended December 31, 2012. Selected financial and operational information is outlined below and should be read in conjunction with the Financial Statements and related MD&A which are available for review at www.renegadepetroleum.com or www.sedar.com.

Renegade is also pleased to announce the results of its 2012 year-end reserves evaluation by Sproule Associates Limited ("Sproule"), an independent reserves evaluator, for 100% of Renegade's oil and gas properties, prepared in accordance with National Instrument 51-101 - Standards of Disclosure for Oil and Gas Activities ("NI 51-101") and the COGE Handbook.

2012 HIGHLIGHTS


--  Created the highest light oil weighted dividend paying corporation in    the Canadian public markets generating some of the highest netbacks and    strong cash flow;--  Renegade attained some of the highest production rates on individual    wells in the Company's history with multiple wells targeting both the    Souris Valley and Frobisher formations exceeding 30-day average initial    production ("IP") rates of 200 barrels of oil ("bbl") per day ("bbl/d")    with peak rates during that 30-day period of 300 bbl/d. The success from    the Company's 2012 internal drilling program is directly analogous to    the trends the Company will be exploiting on its significant southeast    Saskatchewan land base;--  Increased total proved plus probable reserves by 164% to 33.7 million    boe and increased total proved reserves by 181% to 23.9 million boe,    weighted 94% to light-oil and natural gas liquids;--  Generated a finding, development and acquisition ("FD&A"), including    future development costs, recycle ratio of 1.7 times on a proved plus    probable basis based on a 2012 annual operating netback of $51.21/boe;    and--  Subsequent to December 31, 2012, Renegade has entered into a definitive    agreement to sell non-core assets for $13 million in cash. The proceeds    will be used to reduce debt.
FOURTH QUARTER 2012 HIGHLIGHTS
--  Achieved record average production of 4,435 barrels of oil equivalent    ("boe") per day ("boe/d") (97% light oil) for the three months ended    December 31, 2012, up 22 percent from the comparable quarter of 2011 and    13 percent over the third quarter of 2012;--  Acquired approximately 3,600 boe/d of light oil production (94% light    oil) within the Company's existing core area of southeast Saskatchewan    (the "Acquired Assets") from a senior Canadian producer on December 14,    2012; and--  Hedged approximately 71 percent and 59 percent of its expected oil    production, net of royalty interest, for the balance of 2013 and 2014,    respectively. Average WTI hedge prices range from C$93.94 per bbl for    the remainder of 2013 to C$92.46 per bbl in 2014.