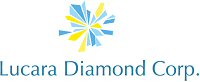 VANCOUVER, BRITISH COLUMBIA -- (Marketwire) -- 03/21/13 -- Lucara Diamond Corp. (TSX: LUC)(BOTSWANA: LUC)(NASDAQ OMX First North: LUC) ("Lucara" or the "Company") today reports its fourth quarter 2012 results.

William Lamb, President and Chief Executive Officer commented, "2012 was a transformational year for Lucara, having successfully built and commissioned the Karowe Diamond Mine in Botswana safely, on schedule and on budget. During the year, Karowe produced a total of 303,000 carats from 1.4 million tonnes of ore, exceeding guidance by 12%. Proceeds from the sale of nearly 216,000 carats totaled $55 million resulting in an average sales price of $253 per carat, which exceeded our mid-year expectations. In under eight months, Karowe has established itself as one of Botswana's premier diamond producers, having yielded a number of exceptional, high value stones including a 9.6 carat blue diamond that sold for $4.5 million in Q3 and more recently, a 239 carat white diamond that was recovered in early March, 2013. The latter stone represents one of the largest diamonds ever recovered in the prolific Orapa district.

With the successful sales and recovery of exceptional stones continuing in Q1 2013, significant cash proceeds of $32.5 million have been achieved, including the sale of Karowe's second blue diamond for $1.6 million or $341,416 per carat. This cash generation will allow the Company to readily make its first debenture payment instalment at the end of March. I look forward to 2013 being another outstanding year for Lucara."

2013 Corporate Update


--  During the first quarter of 2013 the Company sold 144,712 carats of    Karowe diamonds for gross proceeds of $32.5 million. The 2013 sales    included six parcels totalling 18,233 carats, which were withheld from    the December 2012 sale due to low volumes of competitive bidding.    Excluding the December diamond inventory sold in January, the average    sales price for full 2013 production sold was $243 per carat.--  The Company sold its second blue stone, a 4.77 carat diamond in its    March sale for $1.6 million or $341,416 per carat.--  The Company recovered a 239.2 carat diamond from its Karowe mine in    Botswana which will be sold on tender during May 2013. In addition to    the recovery of this exceptional gem, two more large stones weighing    124.0 carats and 71.1 carats have also been recovered.--  Proceeds of $0.9 million were received in February 2013 from the sale of    some 2,100 carats of diamond, which remained from Mothae's trial mining    program.
(1) The Company's financial results are prepared in accordance with IFRS. This press release refers to cash operating earnings and EBITDA, which are not measures recognized under IFRS and do not have a standardized meaning prescribed by IFRS. Refer to the "Non-GAAP Measures" section in the MD&A for further details.
2012 OPERATIONAL PERFORMANCE SUMMARY
Karowe Mine - Botswana (formerly AK6 Diamond Project)
--  The Company completed five sales during the year totalling 215,762    carats for proceeds of $54.6 at an average sales price of $253 per    carat. Included in these results is the sale of a 9.46 carat blue    diamond for $4.5 million or $477,272 per carat. A table reconciling    sales proceeds and revenues reported in the Company's statement of    operations can be found on page 4. Total sales forecast for 2013 is    400,000 carats.--  A total of 303,000 carats of diamond were recovered in 2012 against a    forecast of 271,000 carats. Average grade processed during the fourth    quarter of 2012 was 25.4 carats per hundred tonnes. The average grade    processed for the year was 22.0 carats per hundred tonnes compared to a    budget of 20.2 carats per hundred tonnes.--  Operating expenses per carat sold from the September, November and    December sale was $92 per carat compared to a budget of $123 per carat.--  Cash operating earnings reported from the September, November and    December sale (excluding depreciation, amortization and depletion) was    $23.6 million or 56% of gross revenue.