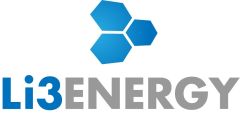 SANTIAGO, CHILE -- (Marketwire) -- 03/21/13 -- Li3 Energy, Inc. (OTCBB: LIEG) ("Li3," "Li3 Energy" or the "Company"), a US-listed and South America based global exploration company in the lithium and minerals sector, is pleased to announce that it has executed a Memorandum of Understanding with Blue Wolf Mongolia Holdings Corp. ("BW" or "Blue Wolf"). Blue Wolf is a British Virgin Islands ("BVI") blank check company, formed for the purpose of effecting a merger or other business combination. In 2011, Blue Wolf completed an IPO led by Deutsche Bank and its securities are currently listed on the NASDAQ Capital Market (NASDAQ: MNGL) (NASDAQ: MNGLU) (NASDAQ: MNGLW). One of Blue Wolf's largest institutional shareholders is Geologic Resource Partners LLC, a US registered investment firm focused on the metals and mining sector.

Luis Saenz, CEO of Li3, stated: "We are very pleased to have signed this Memorandum of Understanding with respect to the Blue Wolf transaction. If successful, the transaction could allow Li3 to continue advancing its overall strategy with our flagship Maricunga Project, and bring us one step closer to our goal of becoming a leading low cost industrial minerals producer. We look forward to working together with Blue Wolf, as we work towards a definitive agreement between our two companies."

If successful, the transaction with Blue Wolf's subsidiary could provide Li3 with additional funding allowing the company to continue advancing the Maricunga project. Li3 recently announced that the company received the initial environmental approval in Chile, enabling the company to initiate the necessary work program to prepare a Feasibility Study. The funding from closing the Blue Wolf transaction could also allow Li3 to continue exploring additional acquisition and or joint venture targets of synergistic "grandfathered" lithium properties and lastly, in parallel, exploring a potassium-only project should the current situation (lithium exploitation permitting) prevail. While the Company offers no assurances on the ability of both parties to execute a definitive agreement and ultimately close the transaction, Li3 continues to evaluate strategies allowing the company to pursue a project in Maricunga and this transaction demonstrates our continued efforts towards that end.

It is intended that Li3's shareholders will receive, in consideration for the planned transaction one (1) share of Blue Wolf common stock for every two hundred fifty (250) shares of Li3 common stock. Li3's existing warrants will exchange on the same ratio. The closing of the proposed transaction with Blue Wolf is subject to further due diligence, final approval by both boards, regulatory and court approvals, shareholder approvals and is subject to the execution of a definitive agreement, which Li3 is anticipating to be completed within approximately 60 days. Upon the execution of a definitive agreement and a successful closing, Blue Wolf intends to change its name to Li3 Energy Inc., as well as make application to change its stock symbol on the NASDAQ Capital Market to LIEG.