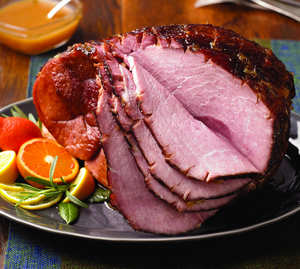 Spiced Grilled Ham with Citrus Glaze


MISSION, KS -- (Marketwire) -- 03/21/13 -- (Family Features) Looking to put a delicious twist on your Easter meal? Try cooking ham on the grill.

It's easy to fire up your feast with this Spiced Grilled Ham with Citrus Glaze recipe. A flavor powerhouse, ham can be prepared in multiple ways, complementing a variety of dishes and flavors that fit into any Easter celebration and beyond. Surround it with savory sides like Roasted Potatoes with Bacon and Goat Cheese or Ham and Peas with Mint and Tarragon for a truly mouthwatering meal. And, don't turn that grill off just yet, because no fired-up Easter feast would be complete without a sweet and smoky dessert that's also fresh off the grill -- Caramel Frozen Yogurt Pie with Grilled Peaches.

You can find more Easter recipes, helpful tips and nutrition information at www.porkbeinspired.com.

Grilling Tips from the National Pork Board

•Grill over indirect heat. This allows the ham to heat evenly, without burning.

•Score the ham. Scoring (diagonal cuts about 1 inch apart on the surface of the ham) not only looks more appealing, but it allows both the natural juices and the glaze to penetrate and flavor the meat.

•Use an instant-read thermometer. Heat pre-cooked (or cured) ham until the internal temperature reaches 140 degrees F. Cook fresh uncooked ham until the internal temperature reaches 145 degrees F, followed by a 3-minute rest. When inserted into the thickest part of the meat (without touching any bone), the temperature should register within a few seconds.




Spiced Grilled Ham with Citrus GlazePrep Time: 15 minutesCook Time: 1 1/2 to 2 hoursYield: 12 to 14 (4-ounce) servings6 to 7-pound fully-cooked bone-in ham, trimmed1 tablespoon ground coriander1 tablespoon ground paprika1 teaspoon ground cumin1/2 teaspoon ground cinnamon1/4 teaspoon ground cloves1/4 cup lemon marmalade (or other citrus marmalade)2 tablespoons orange juice2 tablespoons packed brown sugar
Preheat gas or charcoal grill to medium-hot (375 degrees F to 425 degrees F). Prepare grill for indirect cooking: For gas grill, turn off center burner; for charcoal grill, bank coals on either side; place a drip pan under grate between heat sources.
Score a diamond pattern into ham, about 1/8 inch deep into any fat. In small bowl, combine coriander, paprika, cumin, cinnamon and cloves. Rub spice mixture over all sides of ham. Place ham, flat side down, in center of grill over drip pan. Cover and cook, adding briquettes as necessary to maintain heat, until internal temperature of ham reaches 140 degrees F, 1 1/2 to 2 hours or 15 to 18 minutes per pound.
Meanwhile, in small bowl, combine marmalade, orange juice and sugar.
Brush marmalade mixture over ham. Cover and grill 5 minutes, until glaze is lightly caramelized. Remove ham from grill, transfer to cutting board, and let rest 15 to 30 minutes.
(Oven-roasting instructions can be found at
www.porkbeinspired.com
.)
Caramel Frozen Yogurt Pie with Grilled PeachesPrep Time: 20 minutesCook Time: 15 minutesYield: 8 to 10 servings2 pints premium vanilla frozen yogurt1 9-inch prepared graham cracker pie crust, or 8 individual graham cracker pie crusts1 1/4 cups caramel sauce, store-bought2 tablespoons butter, melted2 tablespoons dark brown sugar6 ripe medium sized peaches, halved and pitted
Transfer 1 pint of frozen yogurt from freezer to refrigerator to soften for 30 to 40 minutes.
Preheat oven to 375 degrees F. Bake pie crust until lightly browned and crisp, about 10 minutes. Set aside to cool.
To assemble pie, spread softened yogurt evenly over pie crust. Place in freezer and chill about 1 hour. When firm, spread about 3/4 cup caramel evenly over frozen yogurt.
Return pie to the freezer, and transfer second pint of frozen yogurt to refrigerator. Allow pint to soften for 30 to 40 minutes.
Spread second pint of yogurt evenly over caramel, making decorative swirls, if possible. Freeze until firm. Remove from freezer 10 minutes before serving.
To grill peaches, prepare medium fire in a charcoal grill or preheat gas grill on medium. Melt butter and stir in brown sugar until dissolved. Toss peaches with butter mixture until well coated.
Grill peaches directly over medium fire, cut-side up, until grill marks are visible, about 5 minutes. Turn peaches over and grill until grill marks show and peaches are tender, about 4 minutes longer. Set aside to cool. When cool, cut peaches into thick wedges.
When ready to serve, cut pie into wedges and serve with peaches on the side. Drizzle a little of remaining caramel sauce over top.
Roasted Potatoes with Bacon and Goat CheesePrep Time: 10 minutesCook Time: 40 minutesYield: 6 servings1/2 pound bacon, sliced12 small red potatoes, halved Olive oil1/2 cup sour cream1/4 cup goat cheese, plain4 tablespoons green onions, sliced1/4 cup Parmesan cheese, grated3 tablespoons dill, snipped, plus dill for garnish1/4 teaspoon seasoned salt1/4 teaspoon pepper
Heat oven to 450 degrees F.
In large skillet, cook bacon over medium heat, turning to brown evenly, until crisp. Blot bacon on paper towels, mince and set aside.
Brush cut surfaces of potatoes lightly with olive oil. Place potato halves cut side up on a shallow rimmed baking pan; bake until potatoes are tender and faces of potatoes are lightly browned, about 20 to 30 minutes.
Meanwhile, in small bowl mash together sour cream and goat cheese, stir in minced bacon, onion, Parmesan, dill, salt and pepper.
Top each potato with a spoonful, about 2 teaspoons, of sour cream mixture. Serve warm.
Make-Ahead Tip: Roast potatoes before guests arrive; keep warm in the oven. Top with cheese mixture before serving.
Ham and Peas with Mint and TarragonPrep Time: 10 minutesCook Time: 10 minutesYield: 4 to 6 servings4 ounces cooked ham, cut into 1/4-inch dice3 cups peas, fresh or frozen3 tablespoons unsalted butter (1/2 stick) cut into 4 to 6 pieces1/4 cup fresh mint, coarsely chopped, plus sprigs for garnish2 tablespoons fresh tarragon, coarsely chopped, plus sprigs for garnish Salt and pepper to taste
Bring medium saucepan of well-salted water to a boil over high heat. Add peas and cook until tender, 3 to 8 minutes depending on size of peas.
Drain peas, reserving 2 tablespoons cooking water. Return peas and cooking water to saucepan. Add ham, butter, mint, and tarragon, stirring until butter melts. Season with salt and pepper.
Transfer to bowl, garnish with mint and tarragon sprigs, and serve.
About Family Features Editorial Syndicate

This and other food and lifestyle content can be found at
www.editors.familyfeatures.com
. Family Features is a leading provider of free food and lifestyle content for use in print and online publications. Register with no obligation to access a variety of formatted and unformatted features, accompanying photos, and automatically updating Web content solutions.
Image Available:
http://www2.marketwire.com/mw/frame_mw?attachid=2249486
Add to Digg
Bookmark with del.icio.us
Add to Newsvine


Michael French
mfrench@familyfeatures.com
1-888-824-3337
http://editors.familyfeatures.com