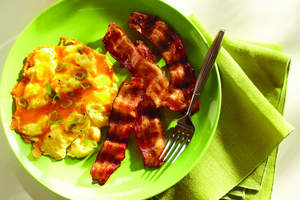 Spicy Candied Bacon with eggs


MISSION, KS -- (Marketwire) -- 03/21/13 -- (Family Features) The ingredients for an easy weekend breakfast or a special Easter brunch may be in your pantry right now. Holidays are the perfect time to sprinkle additional creativity or fresh new thinking into meals for family and friends and -- by using staples like pancake mix, syrup and instant mashed potatoes in unexpected ways -- you can craft new and delicious dishes sure to make everyone smile.

Try these recipes from Hungry Jack® using simple pantry staples, and turn them into what will become new brunch favorites:

•Put a unique spin on brunch food with a savory Ham, Egg and Cheese Pizza. •DIY Pancake Breakfast Sandwiches: You can assemble them for your guests, or get everyone involved by letting them build their own and add some custom touches like eggs, cheese or bacon. •Combine sweet, spicy and smoky flavors for Spicy Candied Bacon, a definite crowd pleaser. •Set out some flavored or Greek yogurt and a bowl of Good Morning Granola so guests can create their own breakfast parfaits.

For more creative recipes and ideas, visit www.hungryjack.com.



Spicy Candied BaconYield: 6 slicesPrep Time: 5 minutesCook Time: 25 minutes 1/2 pound extra-thick cut bacon, about 6 slices 1/4 cup Hungry Jack Original Syrup 1/4 teaspoon cayenne pepper 1/4 teaspoon ground cinnamon 1/8 teaspoon cracked black pepper
1. HEAT oven to 375 degrees F. Line 15 x 10-inch baking pan with foil. Lay bacon slices on foil.
2. BAKE 18 to 20 minutes or until bacon edges begin to curl. Remove from oven. Tilt pan to drain. Pat bacon with paper towel. Combine syrup, cayenne pepper, cinnamon and pepper in small bowl. Drizzle evenly over bacon slices.
3. BAKE 5 minutes or until evenly browned. Remove to wire rack. Cool 5 minutes.
Serving suggestion: Candied Bacon Breakfast Sandwich: Layer fried egg on English muffin. Top with shredded cheese, Spicy Candied Bacon and a dash of hot sauce or ketchup. Top with other half of English muffin.
Pancake Breakfast SandwichYield: 4 servingsPrep Time: 15 minutesCook Time: 15 minutesPancakes: Crisco Original No-Stick Cooking Spray 3/4 cup Hungry Jack Complete Buttermilk Pancake & Waffle Mix 1/3 cup water 1/4 cup Hungry Jack Original Syrup 1/2 cup shredded sharp cheddar cheese 1 cup frozen shredded hash brown potatoes, thawed, chopped into bite-sized pieces 1/4 teaspoon salt 4 3-inch round sausage patties*Eggs: 1 tablespoon butter 1/3 cup diced red pepper 4 large eggs 1/8 teaspoon salt
For pancakes:
1. COAT griddle or skillet with no-stick cooking spray. Heat griddle or skillet on medium heat (350 degrees F).
2. WHISK pancake mix, water and syrup in medium bowl. Stir in cheese, potatoes and 1/4 teaspoon salt. Cook sausage patties as directed on package.
3. POUR 2 tablespoons batter on griddle, spreading batter to make a 3-inch circle or by using 3-inch pancake molds, coated with no-stick cooking spray. Repeat to make 7 more pancakes. Cook 2 minutes or until golden brown. Turn. Cook second side 2 minutes.
For eggs:
1. MELT butter in large skillet. Add red pepper. Cook and stir about 1 minute. Whisk eggs and salt in small bowl. Pour into skillet with peppers. Cook slightly, then shape into four 3-inch circles about the same size as the pancakes and sausage.
2. PLACE one pancake on plate. Top with cooked sausage patty, egg and another pancake to make breakfast sandwich. Repeat with remaining ingredients to make 3 more sandwiches.
*TIP: If using pre-made sausage patties, flatten slightly into 3-inch rounds, if necessary.
Ham, Egg and Cheese PizzaYield: 8 servingsPrep Time: 15 minutesCook Time: 35 minutesCrust: Crisco® Original No-Stick Cooking Spray 1 3/4 cups Hungry Jack Complete Buttermilk Pancake & Waffle Mix 1/4 cup grated Parmesan cheese 1/2 teaspoon dry mustard 1/2 teaspoon onion powder 1/3 cup water 2 tablespoons Crisco Pure Olive OilFilling: 3 large eggs 1 cup sour cream 1 tablespoon Dijon mustard 1 1/2 teaspoons fresh dill weed or 1/2 teaspoon dried dill weed 1/4 teaspoon salt 1 cup shredded Swiss or cheddar cheese 1/3 cup thinly sliced green onion 4 ounces thinly sliced deli-styled baked ham, coarsely chopped Fresh dill sprigs (optional)
For crust:
1. HEAT oven to 425 degrees F. Coat 12-inch pizza pan with no-stick cooking spray. Combine pancake mix, Parmesan cheese, dry mustard and onion powder in medium bowl, stirring until blended. Stir in water and olive oil until dough forms.
2. PRESS dough onto bottom of prepared pan to form a crust, building up outside edge to form a rim. Bake 7 minutes.
For filling:
1. WHISK eggs, sour cream, Dijon mustard, dill and salt in medium bowl. Stir in cheese and green onions. Pour over hot crust, spreading evenly. Toss ham to separate pieces. Sprinkle evenly over egg mixture. Reduce oven temperature to 350 degrees F. Bake 20 to 25 minutes or until egg mixture is set in center. Cool 5 minutes before cutting. Garnish with fresh dill, if desired.
Good Morning GranolaYield: 5 cupsPrep Time: 10 minutesCook Time: 30 minutes 3 cups old-fashioned rolled oats 1 cup sliced almonds 1/2 cup shredded sweetened coconut (optional) 2 tablespoons wheat germ 1/2 teaspoon salt 1/2 teaspoon ground cinnamon 2 tablespoons Crisco Pure Vegetable Oil 1/2 cup Hungry Jack Sugar Free Breakfast Syrup 2 tablespoons firmly packed brown sugar 1 cup dried fruit, such as raisins, golden raisins, cherries or cranberries
1. HEAT oven to 350 degrees F.
2. COMBINE oats, almonds, coconut, wheat germ, salt and cinnamon in large bowl. Combine oil, syrup and brown sugar in another bowl. Pour over oat mixture. Toss until well coated. Spread evenly in 13 x 9-inch pan.
3. BAKE 30 minutes or until golden brown, stirring frequently. Cool completely. Stir in dried fruit. Store in airtight container at room temperature.
About Family Features Editorial Syndicate

This and other food and lifestyle content can be found at
www.editors.familyfeatures.com
. Family Features is a leading provider of free food and lifestyle content for use in print and online publications. Register with no obligation to access a variety of formatted and unformatted features, accompanying photos, and automatically updating Web content solutions.
Image Available:
http://www2.marketwire.com/mw/frame_mw?attachid=2228552
Add to Digg
Bookmark with del.icio.us
Add to Newsvine


Michael French
mfrench@familyfeatures.com
1-888-824-3337
http://editors.familyfeatures.com