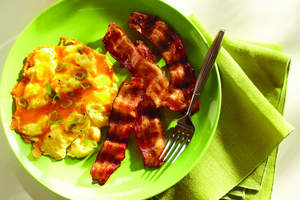 Spicy Candied Bacon with eggs


MISSION, KS -- (Marketwire) -- 03/21/13 -- (Family Features) The ingredients for an easy weekend breakfast or a special Easter brunch may be in your pantry right now. Holidays are the perfect time to sprinkle additional creativity or fresh new thinking into meals for family and friends and -- by using staples like pancake mix, syrup and instant mashed potatoes in unexpected ways -- you can craft new and delicious dishes sure to make everyone smile.

Try these recipes from Hungry Jack® using simple pantry staples, and turn them into what will become new brunch favorites:

•Put a unique spin on brunch food with a savory Ham, Egg and Cheese Pizza. •DIY Pancake Breakfast Sandwiches: You can assemble them for your guests, or get everyone involved by letting them build their own and add some custom touches like eggs, cheese or bacon. •Combine sweet, spicy and smoky flavors for Spicy Candied Bacon, a definite crowd pleaser. •Set out some flavored or Greek yogurt and a bowl of Good Morning Granola so guests can create their own breakfast parfaits.

For more creative recipes and ideas, visit www.hungryjack.com.



Spicy Candied BaconYield: 6 slicesPrep Time: 5 minutesCook Time: 25 minutes      1/2     pound extra-thick cut bacon, about 6 slices      1/4     cup Hungry Jack Original Syrup      1/4     teaspoon cayenne pepper      1/4     teaspoon ground cinnamon      1/8     teaspoon cracked black pepper
1. HEAT oven to 375 degrees F. Line 15 x 10-inch baking pan with foil. Lay bacon slices on foil.
2. BAKE 18 to 20 minutes or until bacon edges begin to curl. Remove from oven. Tilt pan to drain. Pat bacon with paper towel. Combine syrup, cayenne pepper, cinnamon and pepper in small bowl. Drizzle evenly over bacon slices.
3. BAKE 5 minutes or until evenly browned. Remove to wire rack. Cool 5 minutes.
Serving suggestion: Candied Bacon Breakfast Sandwich: Layer fried egg on English muffin. Top with shredded cheese, Spicy Candied Bacon and a dash of hot sauce or ketchup. Top with other half of English muffin.
Pancake Breakfast SandwichYield: 4 servingsPrep Time: 15 minutesCook Time: 15 minutesPancakes:              Crisco Original No-Stick Cooking Spray      3/4     cup Hungry Jack Complete Buttermilk Pancake & Waffle Mix      1/3     cup water      1/4     cup Hungry Jack Original Syrup      1/2     cup shredded sharp cheddar cheese      1       cup frozen shredded hash brown potatoes, thawed, chopped into              bite-sized pieces      1/4     teaspoon salt      4       3-inch round sausage patties*Eggs:      1       tablespoon butter      1/3     cup diced red pepper      4       large eggs      1/8     teaspoon salt
For pancakes:
1. COAT griddle or skillet with no-stick cooking spray. Heat griddle or skillet on medium heat (350 degrees F).
2. WHISK pancake mix, water and syrup in medium bowl. Stir in cheese, potatoes and 1/4 teaspoon salt. Cook sausage patties as directed on package.