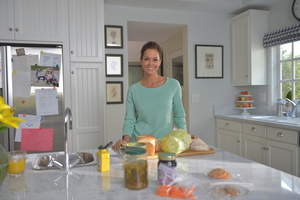 Brooke Burke-Charvet filming 'My Claritin Clear Challenge,' created by the makers of non-drowsy CLARITIN(R) products.


WHITEHOUSE STATION, NJ -- (Marketwire) -- 03/21/13 -- Merck, the makers of non-drowsy CLARITIN® products, has teamed up again with Dancing with the Stars host Brooke Burke-Charvet -- this time to share her "My Claritin Clear Challenge." The new two-minute video, directed by Aengus James of "This Is Just A Test" productions, shares a sneak peek into Brooke's daily life and gives an idea of how she's able to handle some big and small every day challenges without having to worry about her allergies.

Brooke's story shows her tackling daily tasks related to family, work and friends that the 40 million Americans who suffer from indoor or outdoor allergies may also face. "Spring is a very busy time for me. My TV season is in full swing, my kids are more active and demanding, and we love spending as much time outdoors as possible. I certainly don't have time for allergy symptoms to get in my way," said Brooke. "That's why I was happy to take on the 'Claritin Clear Challenge.' It's simple, as soon as your allergies start take one 24-hour non-drowsy Claritin every day of your allergy season, as long as your triggers remain, for continuous relief or your money back. So for me, it's as long as the pollen keeps flying."

Common allergy symptoms like sneezing, itchy-watery eyes and a runny nose can really get in the way of people's every day lives -- impacting sleep, performance at work, and other daily activities. According to a new survey of allergy sufferers commissioned by Merck this year:

•72% of adults with seasonal allergy symptoms admit they don't feel like themselves when they're suffering from allergy symptoms, leaving them sluggish, irritable and miserable! •Allergy symptoms were the cause of almost four missed work days in the past year. The majority of allergy sufferers say it's hard to concentrate on work when suffering from allergy symptoms and nearly half of allergy sufferers admit to being less productive at the office due to allergy symptoms. •51% agree they are no fun to be around when they are suffering from seasonal allergy symptoms •Seasonal allergy sufferers spend less time exercising (55%), cleaning (45%), and having a social life (37%) than they would like to because of their allergy symptoms •And 62% of seasonal allergy sufferers' sleep suffers during allergy season!

"Allergies can definitely take a toll on every day activities. But the good news is that there are ways to help manage allergies and relieve symptoms," said Robert Eitches, MD, Allergy Specialist. "Here are some tips to help allergy sufferers survive the spring season:

•Beat the clock: Peak pollen production can occur in early morning, so try to plan outside activities at other times of the day. •Wash wisely: If you are going to be outside, it's a good idea to shower and wash your hair when you return indoors to remove the pollen, which can be an allergy trigger. This prevents it from being transferred to your furniture and linens. •Check the forecast: People with seasonal allergies, should check for pollen counts in their area. Pollen levels can vary day-to-day depending upon several factors, including the weather."