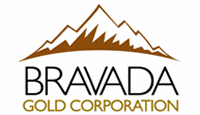 VANCOUVER, BRITISH COLUMBIA -- (Marketwire) -- 03/21/13 -- Bravada Gold Corporation (TSX VENTURE: BVA)(FRANKFURT: BRT) ("Bravada" or the "Company") reported that at its annual general meeting held on March 14, 2013 the following directors were re-elected: Joseph A. Kizis, Jr., Lawrence Page, Q.C., John Kerr, Michael Rowley, Richard Hughes, G. Ross McDonald, Paul Dircksen and Terrence Eyton. In addition, the shareholders re-appointed Smythe Ratcliffe, Chartered Accountants, as auditor of Bravada and approved Bravada's rolling incentive stock option plan pursuant to which a maximum of 10% of the issued shares will be reserved for issuance under the plan. The stock option plan is subject to TSX Venture Exchange acceptance.

The following officers were re-appointed subsequent to the annual general meeting: Joseph A. Kizis, Jr. as President, Lawrence Page, Q.C. as Chairman and Arie Page as Corporate Secretary. Derek Page has resigned as Chief Financial Officer of Bravada effective March 31, 2013 and the board of directors thanks him for his efforts on behalf of the Company.

Bravada is pleased to announce the appointment of Graham Thatcher as Chief Financial Officer of the Company subsequent to Derek Page's resignation. Mr. Thatcher moved from London, England to Vancouver, British Columbia in 2006. Specializing in financial reporting and auditing across a breadth of business sectors in both the UK and Canada, he brings extensive experience of operating with International Financial Reporting Standards and paperless systems. He is also senior accountant at Manex Resource Group which provides administrative, financial, corporate, corporate finance and geological services to a number of public companies in the mineral resource sector. Prior to this, he worked in public practice at Smythe Ratcliffe LLP with companies in the mining and exploration sector. Mr. Thatcher obtained a Bachelor of Arts degree with Honours in Economics from Lancaster University in 1995, which included a one year program at the University of British Columbia. He is also a finalist of global accounting designation, the Association of Chartered Certified Accountants (ACCA). Mr. Thatcher is also volunteer board member and treasurer at Heritage Hall Preservation Society, a non-profit charitable organization whose mandate is to restore and manage Heritage Hall, a landmark building located in Vancouver.

Wind Mountain Drilling Underway

Drilling is underway at the Company's Wind Mountain gold and silver property, located in northwestern Nevada. The program is expected to consist of eight reverse-circulation holes that will further test two exploration targets, which are separate from existing resources, and one probable expansion of Bravada's Breeze resource. Details of the planned program were described in news release NR-03-13, dated February 19, 2013. The goal of this program is to identify new mineralization that will add to Bravada's existing NI-43-101 resource at Wind Mountain, which consists of 570,000 ounces of gold and 14.7 million ounces of silver in the Indicated category and an additional 354,000 ounces of gold and 10.1 million ounces of silver in the Inferred category (see Table below and news release NR-06-12 dated April 11, 2012 for details).