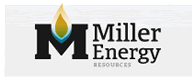 KNOXVILLE, TN -- (Marketwire) -- 03/20/13 -- Miller Energy Resources, Inc. (NYSE: MILL) announced today that its shareholders elected nine directors and ratified the selection of KPMG LLP as the company's independent registered public accounting firm at its annual meeting of shareholders held Monday, March 18, 2013.

Reiterating remarks from that meeting Scott M. Boruff, Chief Executive Officer of Miller Energy Resources, said, "This is the most exciting time in the history of Miller Energy Resources. In the last five years, we've worked to acquire acreage and assets, hire the right people to make up our corporate and operational teams, and secure the funding needed to execute the next stage of our ambitious drilling program. With that foundation in place, we are focused on rapidly ramping up our production.

"So far, we have gone 4 for 4 in our reworks of wells on the Osprey Platform, bringing RU-1, RU-7, RU-3, and RU-4 online. RU-3 and RU-4, both gas wells, have eliminated our need to purchase fuel gas from third parties, resulting in a savings of approximately $500,000 per month. Once a gas contract is in place, we will increase production from these wells, becoming a net seller of gas. We've completed our replacement of the electric submersible pump on our RU-7 oil well, and once it finishes cleaning up, we expect to see resumed production at previous rates.

"Over the next twelve months, in addition to completing sidetracks of oil wells RU-2 and RU-5, we'll resume work at our onshore gas prospect Otter on Otter well #1 and drill a new well at another onshore gas prospect, Olsen Creek. We also intend to drill two oil and gas wells at our West MacArthur River Unit as well as the Sword #1 well, which will be adjacent to West Mac.

"With respect to our midstream assets, we hope to finish the engineering on our Trans-Foreland pipeline later this year. We also anticipate receiving between $15 million and $20 million in tax rebates from the State of Alaska.

"In Tennessee, in addition to planned reworks of existing wells, we are permitting two more horizontal wells, and intend to accelerate our horizontal drilling program there.

"We're very excited about ramping up our production through our drilling program, especially on our Osprey offshore platform, which sits over the Redoubt Shoals field, our largest reserve base. We believe that increases in our production should translate directly into increased revenues, and ultimately, increased value for our shareholders," concluded Mr. Boruff.

At the meeting, shareholders elected the following directors for a one-year term:

•Deloy Miller - Chairman of the Board of Miller Energy Resources •Scott M. Boruff - CEO of Miller Energy Resources •David J. Voyticky - President and Acting Chief Financial Officer of Miller Energy Resources •David M. Hall - CEO of Cook Inlet Energy, a subsidiary of Miller Energy Resources •Merrill A. McPeak - President of McPeak and Associates •Herman E. Gettelfinger - Former Co-owner and President of Kelso Oil Company (retired) •Gerald E. Hannahs - Private Investor •Charles M. Stivers - Charles M. Stivers, C.P.A. •Don A. Turkleson - Vice President and Chief Financial Officer of Gulf Coast Energy Resources, LLC.