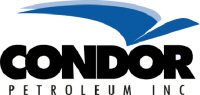 CALGARY, ALBERTA -- (Marketwire) -- 03/20/13 -- Condor Petroleum Inc. ("Condor" or the "Company") (TSX: CPI) is pleased to announce the release of its Consolidated Financial Statements for the year ended December 31, 2012, together with the related Management's Discussion and Analysis ("MD&A"). These documents will be made available under Condor's profile on SEDAR at www.sedar.com and on the Condor website at www.condorpetroleum.com. All financial amounts in this news release are presented in Canadian dollars.

2012 highlights include:

Zharkamys West 1 territory ("Zharkamys")

Kazakhstan annual production increased by 153% year-on-year resulting from Shoba trial production commencing, as scheduled, in September 2012 and from various ninety day production tests of Shoba appraisal and Taskuduk wells. Total production from Zharkamys to date in 2013 has averaged 570 bopd including 410 bopd from Shoba where production has been constrained due to gas flaring limitations. When Shoba transitions into commercial production, which is expected in 2014, the permanent facilities will address these limitations.

Four successful Shoba appraisal wells were drilled during the year, which extends the field north of the previously mapped fault and identified potential in the Basal Jurassic zone. Two of these wells may be produced during the trial production period.

Subsequent to year-end, the Company discovered oil on the KN-E-201 well; 58 meters of net hydrocarbon pay was identified from wireline and mud logs with an additional 16 meters of pay indicated from mudlogs without wireline log data. This discovery validates Condor's unique geologic model and 3D seismic interpretation for this play-type. Multiple intervals are planned to be completed and put on individual ninety day production tests starting in the second quarter of 2013. Drilling the first appraisal well, KN-E-202, is also targeted to begin in in the second quarter of 2013.

In 2012, detailed seismic interpretation and geologic mapping generated an exploration portfolio of 66 prospects for three exploration phases, ranging from the shallow Cretaceous to deep Devonian targets. This equates to an internal company estimate of 1,550 MMboe unrisked mean recoverable resource potential (see resource advisory). Sproule International has performed a resource audit on the Phase 1 prospects, a portion of the Phase 2 prospects, and those Phase 3 prospects mapped from the 2010 3D seismic volume. The internal company resource potential volumes are aligned with the Sproule audits.

During the year, the Company signed a Letter of Intent to purchase a 90% interest in the Sagiz oil storage terminal, located 12 kilometres northwest of Zharkamys. The Company will complete the purchase of the terminal once it is fully refurbished, operational and licensed for use. Refurbishment activities continue on the terminal and commissioning is planned for 2013. The Sagiz Oil terminal includes 7,500 barrels of oil storage capacity and has a rail spur which ties directly into the main rail line between Aktobe and Atyrau. In addition to providing expected oil transportation cost savings, the terminal's existing access to the rail system allow the Company to consider alternative oil marketing options.