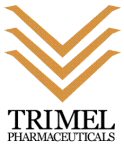 TORONTO, ONTARIO -- (Marketwire) -- 03/19/13 -- Trimel Pharmaceuticals Corporation (TSX: TRL) (the "Company" or "Trimel") today announced that. Trimel Biopharma SRL ("Trimel SRL"), a wholly-owned subsidiary of Trimel, has entered into an agreement to partner with a privately-held European company to develop single dose and fixed dose combinations of a portfolio of established active pharmaceutical ingredients for the treatment of a variety of respiratory disorders utilizing Trimel SRL's award-winning inhalation technology, called TriVair™.

As part of this transaction, Trimel SRL will gain rights to all know-how and intellectual property developed for the applicable products for territories outside of the European Union, Russia and Ukraine. Trimel SRL's development partner will be granted rights to the products developed under the agreement in these markets. Royalties will be payable by the parties to each other in connection with revenues received by each party (or any licensees) in their respective territories in connection with any developed products developed under the agreement.

TriVair™ is a disposable, single unit dose, dry powder inhalation drug delivery technology platform with applications for both nasal and pulmonary dosing. TriVair™, through in vitro cascade impactor studies, demonstrated that it may provide patients suffering from respiratory disorders with up to 2.5 times greater drug deposition in the lung as compared to metered dose inhalers. It is hoped that greater lung deposition of medications will result in equal efficacy to currently marketed asthma medications with reduced drug load. TriVair™ is also designed to provide patients and their caregivers with immediate visual feedback to ensure that the dose has been accurately administered.

About Trimel and Trivair™

Trimel Pharmaceuticals Corporation (TSX: TRL) - Trimel is a specialty pharmaceutical company actively developing medications for male hypogonadism, female sexual dysfunction and various respiratory disorders. CompleoTRT™, a product utilizing Trimel's licensed bioadhesive intranasal gel technology, has successfully completed its pivotal Phase III study for the treatment of male hypogonadism, a condition commonly referred to as "Low T", and Trimel is preparing to submit its New Drug Application with the FDA in the coming months. For more information, please visit www.trimelpharmaceuticals.com.

In November 2009, Trimel SRL acquired assets of Keldmann Healthcare A/S, which has subsequently been rebranded as TriVair™. TriVair™ was the 2009 European Drug Delivery Devices Product Differentiation Innovation of the Year award winner. TriVair™ is a disposable single unit dose dry powder inhalation drug delivery technology platform with applications for both nasal and pulmonary dosing. TriVair™'s patented drug delivery technology may provide significant benefits to patients suffering from certain respiratory disorders.

Notice regarding forward-looking statements:

This press release contains forward-looking information. This forward-looking information is not based on historical facts but rather on the expectations of the Company's management regarding the future growth of the Company and its respective results of operations, performance and business prospects and opportunities. Forward-looking information may include financial and other projections, as well as statements regarding future plans, objectives or economic performance, or the assumptions underlying any of the foregoing. This press release uses words such as "believe", "expect", "would", "will", "expects", "anticipates", "intends", "estimates", or similar expressions to identify forward-looking information. Such forward-looking information reflects the current beliefs of the Company's management based on information currently available to them.