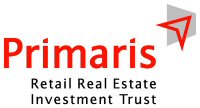 TORONTO, ONTARIO -- (Marketwire) -- 03/19/13 -- H&R Real Estate Investment Trust ("H&R REIT") and H&R Finance Trust ("H&R Finance Trust", collectively, "H&R") (TSX: HR.UN)(TSX: HR.DB.C)(TSX: HR.DB.D)(TSX: HR.DB.E) and Primaris Retail Real Estate Investment Trust (TSX: PMZ.UN) today announced minor changes to the previously announced transactions involving Primaris, H&R and a KingSett Capital-led consortium. The parties have agreed to make the following changes, which do not affect the consideration payable to Primaris unitholders:


--  H&R REIT will now acquire St. Albert Centre, an enclosed shopping centre    located in St. Albert, Alberta, pursuant to the plan of arrangement. The    transaction previously contemplated the sale of St. Albert Centre by a    Primaris subsidiary to KS Acquisition II LP, a 50/50 joint venture of    KingSett Growth LP No. 5 and the Ontario Pension Board.--  Primaris and H&R have agreed to make certain minor amendments to the    plan of arrangement that was included in the management information    circular sent to Primaris unitholders and filed on SEDAR on February 22,    2013. The purpose of the amendments is to provide for the distribution    to Primaris of cash received by Primaris subsidiaries on the sale of    certain properties to the KingSett Capital-led consortium and to    implement certain reorganization transactions as contemplated in the    amended and restated arrangement agreement. A copy of the amended Plan    of Arrangement has been filed on www.sedar.com. The Primaris unitholders    will vote on the plan of arrangement, as amended.--  Primaris and H&R have offered the holders of Primaris exchangeable units    an opportunity to participate in the transaction by exchanging their    current exchangeable units on a tax-deferred basis for new exchangeable    units. Under this offer, each new exchangeable unit would be    exchangeable for 1.166 H&R Stapled Units following the consummation of    the transaction. Any agreement is subject to negotiation of definitive    documentation. Upon completion of such documentation, the redemption    notices sent to such holders would be withdrawn.
Under the Plan of Arrangement, Primaris unitholders may elect to receive $28.00 in cash per Primaris unit, subject to an aggregate cash amount of approximately $1.28 billion, or 1.166 H&R stapled units (1.166 H&R REIT units and 1.166 H&R Finance Trust units) per Primaris unit, in each case subject to proration.
Unitholders of Primaris are invited to attend a special meeting of unitholders of Primaris to be held on March 22, 2013 at 10:00 a.m. (Toronto time) at the Trump International Hotel & Tower Toronto, 325 Bay Street, Toronto, Ontario, Canada, M5H 4G3. Unitholders are urged to ensure their votes are cast no later than March 20, 2013 at 10:00 a.m. (Toronto time) to ensure that their Primaris units will be represented at the meeting, whether or not they are personally able to attend.
If you have any questions or need assistance to vote, please contact Primaris' proxy solicitation agent, Kingsdale Shareholder Services Inc., by toll-free telephone in North America at 1-866-581-1571, outside North America at 416-867-2272 or by email at
contactus@kingsdaleshareholder.com
.